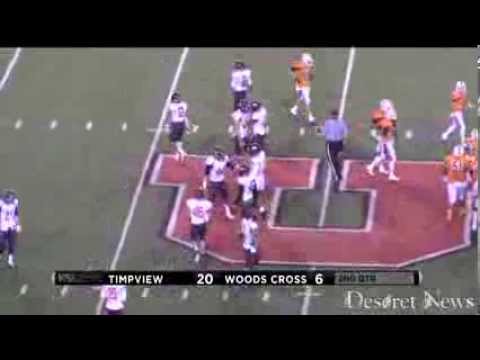 View 2 Items

We all like to use our speed and run a lot. We grew up playing flag football with my dad, so I guess we got used to running around. We've all been blessed with some good speed and we use that to our advantage.

—Britain Covey
PROVO — Timpview quarterback Britain Covey doesn't look like much at a glance, but looks can be deceiving.
Want proof? Take a glance at how he's filled up the stat sheet, and Timpview's win column, since being named the T-Birds' starting quarterback early in the season.
The numbers speak for themselves: a team-high 1,179 rushing yards on a 9.9 yards per rush average and 16 touchdowns, along with 1,617 passing yards and 24 more touchdowns. More important are the 11 straight wins for Timpview since he became the T-Birds' signal-caller.
"Britain Covey has been an exceptional player for us," said Timpview coach Cary Whittingham. "His ability to beat defenses with his arm and his legs has really served our offense well. He makes great decisions, and he has great feel for the games. He simply has a knack to simply make plays."
Having a knack for making plays seems to run in the Covey family. Covey's two older brothers — Stephen and Christian — both enjoyed great success as Timpview's starting quarterback, with Stephen leading the team to a state championship in 2004.
All three brothers are remarkably similar in both stature and in their unique approach to playing the quarterback position.
"We all like to use our speed and run a lot," the 5-foot-10 Britain said. "We grew up playing flag football with my dad, so I guess we got used to running around. We've all been blessed with some good speed and we use that to our advantage."
Since Britain became the starting quarterback, both older brothers have become quite liberal in passing out advice.
"I seriously think at times my brothers are more invested in my high school sports than I am," Britain said. "They'll watch all my film and even take screen shots to show me and teach me what I should do when a defense does this and when they do that. It's great that they're so involved and it's been a big help."
4
comments on this story
Britain, and his team, will need all the help they can muster in preparing to take on undefeated East this Friday for the 4A state championship. The Leopards present a physical, and even dominant, defense that will test the Thunderbirds like no other team has this season.
"I'm so excited for the matchup and for the challenge East presents," Britain said. "We have so much respect for what they've done and just for who they are as a team. It's going to take everything we have to beat them and it's going to be a huge challenge for us. It always is when you play East."
Email: bgurney@desnews.com, Twitter: @BrandonCGurney