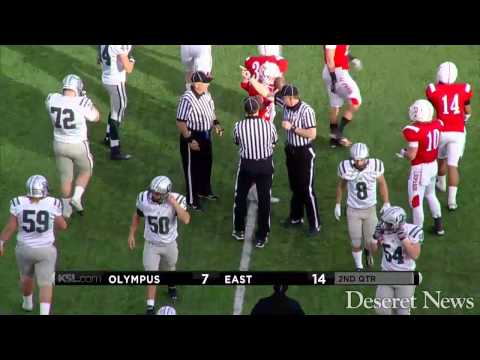 View 2 Items

I think they look at that background and they do respect it in a way, but I think being Poly is part of it. I kinda know how they grew up and where they come from and what kind of family environment they're used to. I think it makes it a little bit easier for me to coach.

—Toniuolevaiavea Fonoti
SALT LAKE CITY — The offensive line squares up underneath the goalpost for individual drills. It's a typical weekday afternoon practice at East High when Mike Key doesn't hear the whistle.
The senior tackle churns his feet forward. He powers his massive frame into the chest of a helpless junior varsity player resembling a blocking sled. A deafening yell thunders down. This whistle is easily heard.
The voice is Toniuolevaiavea Fonoti, a former 6-foot-4, 340-pound All-American lineman at the University of Nebraska and a second-round NFL draft choice of the San Diego Chargers. He's known simply as "Coach T" for obvious reasons, but his influence has been an indispensable asset in developing the Leopards' record-breaking rushing attack this season.
"He's played at the highest level and was an option lineman playing at Nebraska," explained East coach Brandon Matich, whose team will face Timpview in the 4A state championship game at Rice-Eccles Stadium Friday. "He gets option offenses and running the football, and he understands these kids and they respond to him. It's amazing to watch."
Fonoti was honored as a consensus All-American in 2001 following his junior season with the Cornhuskers. He currently holds the school's career pancake record (379), and in 2001 set the single-season pancake mark (201) and the single-game record with 32 pancakes against Texas Tech.
"I think they look at me a little bit differently," Fonoti said. "I think they look at that background and they do respect it in a way, but I think being Poly is part of it. I kinda know how they grew up and where they come from and what kind of family environment they're used to. I think it makes it a little bit easier for me to coach."
Key, Dwayne Finau, Tennessee Suesue, Sione Mafua and Sione Tuikolovatu embody Fonoti's physicality and aggressive attitude. This season, that starting five has paved the way for East to gain 4,945 yards and 62 touchdowns on the ground with an average of 10.5 yards per carry.
"They're basically a team within the team, and that team has to be the most dominating force in all of the aspects in football," Fonoti said. "The five guys up front have to be those guys that you can always count on. That's what starts a football game. You look to those guys and when those guys are fired up, you know everyone will be."
"I think he's the best O-line coach because he's from the NFL," Mafua added. "He's a really big influence in my life and the O-line here at East."
Comment on this story
Tailback Ula Tolutau has been the greatest recipient with 2,344 yards and 30 touchdowns this fall. He's 218 yards shy of breaking the single-season state rushing record.
"Him getting those yards is an affirmation of the guys up front," Fonoti said. "They're doing their jobs. They're the type of kids that aren't asked to be superstars; they're not asked for the spotlight, but they do know with Ula getting those yards that's an appreciation of them blocking and doing what they're supposed to do."
Email: tphibbs@deseretnews.com, Twitter: @phibbs_