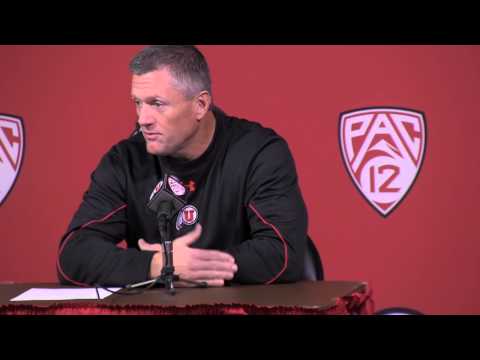 View 2 Items

SALT LAKE CITY — Utah football head coach Kyle Whittingham addressed the media Monday in advance of Utah's out-of-state trip to play the Washington State Cougars on Saturday.
Whittingham spoke about quarterback Travis Wilson's situation, what the plan is going forward, and what the team will have to do offensively and defensively in order to beat the Cougars.
Kyle Whittingham: First of all let's talk about Travis Wilson and the situation there and get that addressed. I got some notes here to make sure I cover all the points. (He) suffered a concussion at Arizona State. It was on the play when the ball came loose down in the red zone, it was a quarterback run. He didn't have any symptoms … directly after the game or during the game so it wasn't readily apparent that it was a concussion.
It was the next day that a headache and things started to surface. That was the beginning of it. Through the concussion diagnosis process, a pre-existing problem was discovered so they proceeded to give him an angiogram to take a closer look and that confirmed that there was a pre-existing problem and something that needs to be addressed and continued to be monitored.
Travis is done for the season, he is out. He's out, he's been declared not able to play for the rest of the year. It could be career-ending, we'll find out; it could very well be career-ending and we won't know for certain for several months. Travis is a tough, competitive kid and very upset by this and disappointed to say the least.
He was a big part of what we were doing on offense, obviously he was our starting quarterback and we're going to miss him, but the most important thing is his long-term health, and that's all that anyone is concerned with. That's the bottom line. The medical staff is proceeding to make sure everything is done in the proper order and proper way to make sure that is the thing we are addressing.
Travis will not be available for comment or interview. There is no need for that and this will be the last time we discuss it again until we have more definitive answers as to what is going on.
Reporter: How are you and the staff proceeding with this? You said it could be several months till you have a further diagnosis. How are you proceeding with Travis' future, is he still going to be a part of the team on a day in and day out basis?
KW: Yeah, absolutely we want him around, in the program and close to the program. He will address the team today, he wants to do that. As far as we are concerned, he is a part of our team. Now going forward, recruiting-wise we are going through that right now as to how to handle it. We are not gonna have answers for several months most likely and so we are in the process of evaluating all of that, and as far as what we do going forward.
Reporter: What can you guys do as an offensive staff to help Adam (Schulz) out more? It seemed like there were an inordinate number of drops, plays that could have been made.
KW: Good point. Adam's numbers were not indicative of how he played because there were five or six drops, balls that should have been caught, which would have improved his numbers greatly. What we can do number one is establish a strong run game. We didn't run the ball very effectively against Oregon. We had over 100 yards, but I think it was like 2.8 a carry, which is nowhere near efficient enough. That is the best way to protect the quarterback and to assist a quarterback is a strong running game, and we didn't get that done.
The pass protection was pretty good, when you look at what it was a week prior and two weeks prior, the pass pro was much improved. It was good to see Adam get back there and have some time to throw the ball, but now we have time to throw the ball and we don't catch it. So if it's not one thing, it's another.
Reporter: When was the decision made on (Isaac) Asiata and will we see Asiata starting again next week against Washington State?
KW: The decision was made by Thursday. Typically if you can't practice by Thursday we don't play you, at least only in an emergency role. With Siaosi Aiono unavailable on Thursday's practice and still limping around, the decision was made at that time to put Isaac in the lineup. I though Isaac responded very well. He played solid football, and you will see him the rest of the way, whether it's a starter or in a rotation capacity, but he's going to continue to play. Hopefully we get Siaosi back this week. He's still a little hobbled, but we'll find out tomorrow where he stands.
Reporter: What do you do spirit-wise for the team with the four-game skid and losing Travis Wilson?
8
comments on this story
KW: Have a séance and do some things like that (laughs). You just have to keep swinging, we've been playing quality teams. The level of play in this conference is very high. From year one, to year two and three it's gotton better and better as a conference and I don't think anyone will dispute that. It's a challenge and we just got to get ready and come back. As bad as we feel right now and as the toughest stretch that it has been, we've got two games left and if we're somehow able to get two wins then we're in a bowl game potentially. That is the main objective right now, is to get those seniors to a bowl game.
Justin Giles has a bachelor's degree in communications with an emphasis in journalism and sports communication. Twitter: Justingiles22 Email: justingiles@deseretnews.com