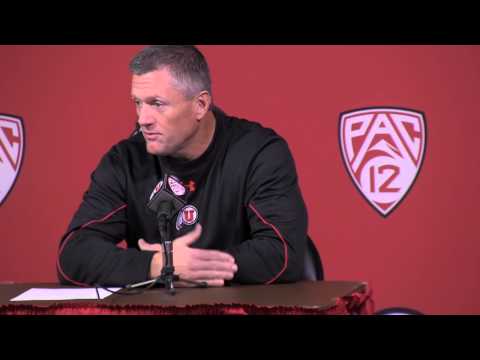 View 3 Items

I don't really know Utah quarterback Travis Wilson. There have been the usual quote-gathering exchanges after practices and games, but that was it.
But I do know what he's like.
I saw him struggling in the game against Arizona State, completing just six of 21 passes. It was an awful day in that regard. That was the same day he sustained the concussion leading to Monday's announcement that he's out for the season.
Yet Wilson also led the team in rushing against ASU. He has led the Utes in rushing three times and finished second twice; topped the team in passing six times.
With that in mind, I expect him to be well qualified to fight what he's now facing. Coach Kyle Whittingham said Wilson's season-ending situation is unrelated to the concussion, but termed it a "head trauma, pre-existing" condition.
In that regard, I expect Wilson to keep doing off the field what he's been doing on it.
If one doesn't work, he'll move forward with another.
Blitzing linebackers or health issues will be all the same to him.
There are a few other things I know from my encounters with Wilson. For instance, he's a kid — an impressive one. Last year, when he was a freshman, I noticed how easily he handled interviews.
Wilson has never been outspoken or outrageous with the media. He played it straight down the line. By the time he got to Utah he'd already been interviewed a few hundred times. Handling that was easy work for him. Dull, maybe, but easy. Yet he has never been rude or surly, even during a bad season. He was always approachable, matter-of-fact and businesslike.
That's certainly the way Whittingham handled Monday's press conference. The coach didn't venture a diagnosis, except to say Wilson is out for 2013 and that the problem could be career ending.
As to whether it's life threatening, Whittingham said, "From what I understand, no, but it may put him at higher risk."
It has been a hard year for the sophomore from San Clemente, Calif. Before the season, coaches said he should rank among the top quarterbacks in the talent-rich Pac-12. Wilson played that way, too, early in the season, passing for 302 yards against Utah State, 279 against Oregon State and 273 against BYU.
He wasn't perfect, to be sure. The six interceptions against UCLA — not all his fault — were worrisome nonetheless.
Then he injured his throwing hand against Stanford.
Yet that was only the first of his injury problems.
There was some speculation that Wilson was making poor on-field decisions. But co-offensive coordinator Brian Johnson said last week that Wilson was "as mentally tough as they come."
That's good to know.
Things turned ominous after last Saturday's game with Oregon, when Whittingham noted that his "hopes and prayers" were going out to Wilson. Frankly, mine are too. I say that not as a fan hoping for wins, but as one who has watched him gracefully handle both a bad season and bad luck. I hope to see him get better first, then throw the football again. I want to watch him peering over the offensive line and throwing the ball downhill from his 6-7 frame. I want to see him roll out on the read-option and lean way out across the goal line.
I want to see him do all the things a 19-year-old college player should.
If that can't happen, I want to see him to healthy.
Before Wilson's injury and health problems arose, there was already one upsetting occurrence. His best friend, UCLA's Nick Pasquale was hit by a car and killed as he walked along a road in September. Wilson politely agreed to interviews on the subject, handling each with the right balance.
Now he's dealing with something even more personal. It's big enough to put football in the background. The way Whittingham sounded on Monday, Wilson's playing days are over.
But his winning days?
I seriously doubt it.
Email: [email protected]; Twitter: @therockmonster; Blog: Rockmonster Unplugged