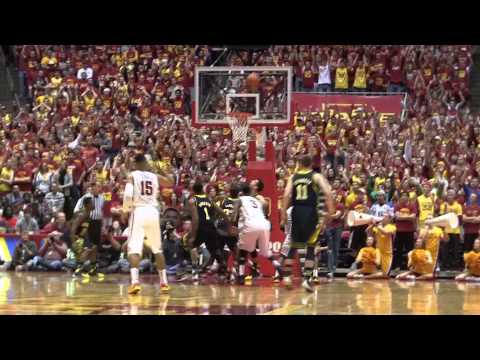 View 4 Items

Today was huge. I can't tell you how proud I am of how our guys responded to the adversity that hit us.

—Iowa State coach Fred Hoiberg, on the Cyclones beating Michigan
Wednesday night's BYU basketball game has some added intrigue.
After Iowa State defeated then-No. 7 Michigan 77-70 on Sunday, the Cyclones jumped to No. 21 in the Associated Press poll released Monday morning.
The Cougars, who went 3-0 during the week since the last ranking came out (including a 112-103 victory at Stanford), received two votes in the poll.
BYU and Iowa State match up at the Marriott Center on Wednesday at 7:30 p.m., a game that will be televised on ESPNU. Last year, the Cyclones easily beat the Cougars 83-62 in Ames, Iowa, on a night BYU shot just 37 percent.
With Iowa State entering the rankings, BYU will have the chance to end a long streak. BYU play-by-play announcer Greg Wrubell tweeted that the Cougars haven't beaten a ranked non-conference opponent on their homecourt since beating No. 14 Pittsburgh 93-73 on Dec. 23, 1986, at the Marriott Center.
It's the first time in two years that a ranked non-conference opponent will play on BYU's court; in 2011, No. 6 Baylor edged the Cougars 86-83 in junior Matt Carlino's debut game for BYU.
Forward Melvin Ejim was the catalyst in the Cyclones' victory over the Wolverines, the national runner-up last season. Ejim, a preseason All-Big 12 selection who missed the first two games of the season with a knee injury, scored 22 points and had nine rebounds in 28 minutes, as Iowa State rallied from eight down in the second half to knock off Michigan.
It was Iowa State's first home win over a non-conference top-10 opponent in 26 years.
"Today was huge," Cyclones coach Fred Hoiberg told the Ames Tribune. "I can't tell you how proud I am of how our guys responded to the adversity that hit us."
Now, the Cougars will have their chance to break a historic home streak when they host Iowa State on Wednesday night.
Email: [email protected]; Twitter: @brandonljudd