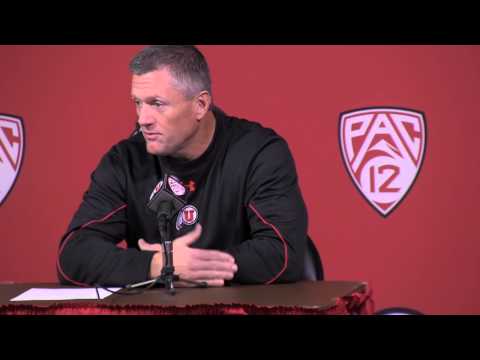 View 3 Items

He was a big part of what we're doing on offense, obviously, as our starting quarterback and we're going to miss him.

—Kyle Whittingham
SALT LAKE CITY — Utah quarterback Travis Wilson will be sidelined for at least the rest of the season after neurological tests revealed what appears to be a previous injury to an intracranial artery.
Team physician David Petron, M.D., issued an update on Wilson's condition Monday evening.
"A pre-existing condition was discovered after Travis Wilson underwent a CT scan to further evaluate the symptoms of a concussion. The findings on the CT scan led to an evaluation with an angiogram, which showed what appears to be a previous injury to an intracranial artery," read the statement. "We do not believe it is life threatening and there is a possibility he could play football in the future if it remains stable. It will be further evaluated with follow-up testing in approximately three months."
Earlier in the day, Utah coach Kyle Whittingham addressed the situation at his weekly press conference.
"We won't know for certain for several months," Whittingham said. "Travis is a tough, competitive kid. (He's) very upset by this obviously and disappointed to say the least."
Wilson suffered a concussion in the Utes' 20-19 loss to Arizona State on Nov. 9. Whittingham said the sophomore didn't have any symptoms during or directly after the game. The next day, however, headaches and "some things" started to surface.
Whittingham explained that through the concussion diagnosis process, the pre-existing problem was discovered and is now being addressed and monitored.
"Travis is done for the season," Whittingham said. "He's out."
Wilson was not made available for comment and Whittingham noted that no additional interviews will be made on the situation after Monday until there are more definitive answers as to what is going on.
"He was a big part of what we're doing on offense, obviously, as our starting quarterback and we're going to miss him," Whittingham said. "But the most important thing is his long-term health,"
That's the bottom line, he added, noting that the medical staff is proceeding to make sure everything is done in the proper order. Whittingham met with Wilson and his father, Tim, at length on Sunday. Wilson will remain close to the program and planned to address the team on Monday.
"He wants to be out there in the worst way," Whittingham said. "So it's hard on him. It's really hard on him."
Whittingham declined to discuss the specifics of Wilson's condition.
"No. I'm not a doctor and I wouldn't want to screw it up," he said.
Whittingham did, however, say that it wasn't believed to be life-threatening.
"The way I understand it, no," he said. "But it may put him at a higher risk because of it if he were to continue to play. That's still to be determined."
What has been determined is that backup Adam Schulz will make his second career start Saturday at Washington State. Schulz was 13-of-30 for 181 yards in last weekend's 44-21 loss at sixth-ranked Oregon. He passed and ran for a touchdown and was intercepted once.
Schulz said Wilson came over to his place after the team returned to Salt Lake City Saturday evening and caught up a little bit.
"We've got each other's backs," Schulz said.
True freshmen Conner Manning and Brandon Cox, who were going to redshirt this season, are now listed as the primary backups at quarterback. Whittingham said they'll be activated only if something "unforeseen" happens to Schulz as far as an injury at this point.
Wilson, who had played in all 21 games in his career at Utah before missing last Saturday's 44-21 loss at Oregon, completed 133-of-237 passes for 1,827 yards and 16 touchdowns this season. He was intercepted 16 times.
In his career with the Utes, the 6-foot-7, 19-year-old from San Clemente, Calif., completed 261-of-441 passes for 3,138 yards with 23 touchdowns and 22 interceptions. He's 7-9 as Utah's starter.
"Despite what people think football isn't life," said tight end Jake Murphy. "Travis is going to move on and get older — even if he can play again. We've just got to keep encouraging him and that's what we'll do."
Email: [email protected]
Twitter: @DirkFacer