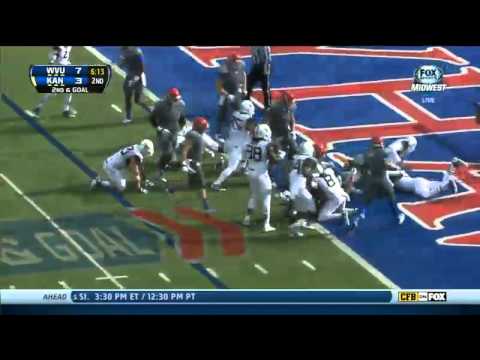 View 7 Items

The Jayhawks were back at home on Saturday with a new starter at quarterback and a more defined offensive scheme. Thanks to the changes, Kansas was able to win its first Big 12 game in 28 tries with a 31-19 victory over the Mountaineers of West Virginia.
After Jake Heaps and Montell Cozart were listed as co-starters on the depth chart all week, it was Cozart who got the call against the Mountaineers for his first start as a Jayhawk.
With Cozart under center, Kansas used a fierce rushing attack to challenge the West Virginia defense, and it couldn't have worked any better.
Behind the legs of running back James Sims, Kansas rushed for 315 yards and four touchdowns. Sims registered a career high 211 yards and three touchdowns on 22 carries.
The West Virginia offense struck first on the first drive of the game. It marched the ball 75 yards on six plays in just 2:52 and capped the drive off with a 12-yard pass from Paul Millard to Charles Sims to take a 7-0 lead.
It was then that the Jayhawks showed their new-found ground attack. The Kansas offense scored 31 consecutive points to blow the game wide open.
After a stalled drive ending with a 25-yard field goal by Ron Doherty cut the Mountaineer lead to 7-3, the KU defense and Sims took over.
The defense kept the Mountaineer offense off the scoreboard in 12 consecutive possessions as well as intercepting two passes that led to Kansas touchdowns.
As for Sims, he was able to break two runs of more than 60 yards, including a 68-yard run for a touchdown just before the end of the first half. He also scored touchdowns on runs on 2 and 3 yards as the Jayhawks opened up a big lead.
After three consecutive touchdowns by Sims, The last Jayhawks touchdown got scored by Brandon Bourbon on a 1-yard run. The touchdown was set up by a 28-yard interception return from linebacker Ben Heeney.
West Virginia scored two late touchdowns to make the score look more respectable.
On the day, Cozart completed just 5-of-12 passes for 61 yards and carried the ball 13 times for another 60 yards.
The win leaves the Jayhawks with a 3-7 record overall, including 1-6 in the Big 12. They will be back on the field next Saturday as Kansas will have another winnable game against the 1-9 Iowa State Cyclones.
It will be interesting to see what will happen with Heaps going forward. The system that Kansas ran on Saturday was much more suited to the dual-threat ability of Cozart, who is just a freshman.
Jay Yeomans is a courier by day and a freelance writer by night. He is the creator and lead writer of the website jmoneysports.com. Contact him at [email protected].