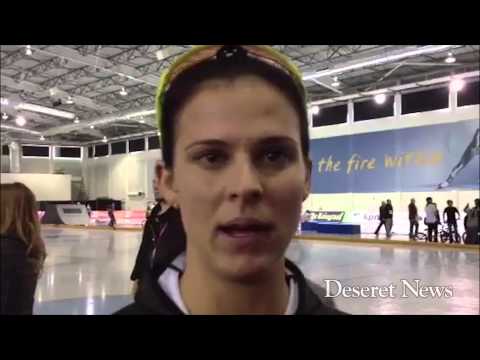 View 7 Items

I've daydreamed about it. I've dreamed in my sleep about it, and when it finally becomes a reality and finally hits you, it's a dream come true.

—Brittany Bowe, US speed skater
KEARNS — Brittany Bowe has imagined breaking a world record countless times since she left her life in Florida to take up speedskating in Utah four years ago.
The one place that she doesn't let herself fantasize about records, however, is when she takes the ice to compete.
After Sunday afternoon's performance in the Essent ISU World Cup, the 25-year-old former inline skater no longer needs to wonder what it might feel like to skate the fastest time in history.
The 25-year-old West Jordan resident set a new world record Sunday in her favorite event, the 1,000 meters, with a time of 1:12.58.
"I've daydreamed about it," she said after winning her final individual race of the World Cup at the Utah Olympic Oval in Kearns. "I've dreamed in my sleep about it, and when it finally becomes a reality and finally hits you, it's a dream come true."
Bowe pumped her fist and grinned as she skated a lap and the crowd cheered. She accepted handshakes and hugs as she tried to recover from the best race of her life.
The record was sweeter because she earned it in the arena where she trains every day.
"Holding a world record here on the home ice, it's very prestigious in my eyes," she said. "Did I think about it going into the race? Absolutely not. Just like I always say, 'I'm thinking about race tactics and focusing on my skating,' and the time fell today. I'm very pleased."
She was also thrilled to share the podium with her training partner and longtime friend, Heather Richardson, who earned her fourth medal of the competition with a time of 1:12.61. Ireen Wust of the Netherlands was third with a time of 1:13.33.
Both Richardson and Bowe beat the old record of 1:12.68, set by Canadian legend Christine Nesbitt.
"I honestly didn't think about it one time," Bowe said. "I wanted to get on the podium today, and I did that, and I did that in world-record time." She said she knew being paired with Russian skater Olga Fatkulina would be to her advantage.
"I needed her to pull me up to speed that first 200," Bowe said. "I knew she would have a very fast opener, but I couldn't let it get me out of control or out of my own race plan."
She said the first lap of the race was the fastest of her career.
"I knew if I could just hang on, it would be a really fast time," she said smiling. "And it was."
Richardson said it was difficult to remain calm and focused after watching Bowe break the world record.
"I was just trying to stay calm," Richardson said. "We train together every day, and it's great to see her up on top. We finally got that 1-2 that we were hoping for yesterday. So I was happy we were able to pull that off today."
It's been a phenomenal weekend for both women as Richardson earned medals in every individual race (two bronze and two silver) and Bowe earned a silver in the 1,500 and gold in the 1,000.
Their coach, who's been a part of three other world records, was thrilled with the times posted by both women, especially on the final day of competition.
"I knew they could again put up a fast time," said U.S. head long track coach Ryan Shimabukuro. "One of the goals for the last couple of years is to get the world record back on home soil. I'm proud of both of them."
He pointed out that only three-hundredths of a second separated the women.
"The girls' racing tells the story," Shimabukuro said. "They both raced the race of their lives, and I'm proud of them."
There were three other races Sunday — the men's 500 meters, the men's 5,000 meters and the women's team pursuit.
Richardson, Bowe and Jilleanne Rookard skated the team pursuit and won the first medal for the United States since 2009. They finished third with a time of 2:57.09. The Netherlands won the race with a time of 2:56.02, and Canada was second with a time of 2:56.90.
In the men's 500, Japan's Keilchiro Nagashima won gold with a personal record of 34.24, while Ronald Mulder of the Netherlands was second with a national record of 34.25 seconds. Korea's Tae-Bum Mo was the bronze medalist in 34.28. U.S. skaters Mitchell Whitmore and Tucker Fredricks were seventh and 18th, respectively.
In the men's 5,000, Sven Kramer of the Netherlands won gold with a track record of 6:04.59, while Bob de Jong of the Netherlands earned silver in 6:07.43. Completing the sweep for the Netherlands was bronze medalist Jorrit Bergsma, who finished in 6:08.13.
The highest U.S. finisher was Jonathan Kuck, who skated a personal best at 6:09.73 to earn fifth place.
Twitter: adonsports
Email: adonaldson@deseretnews.com