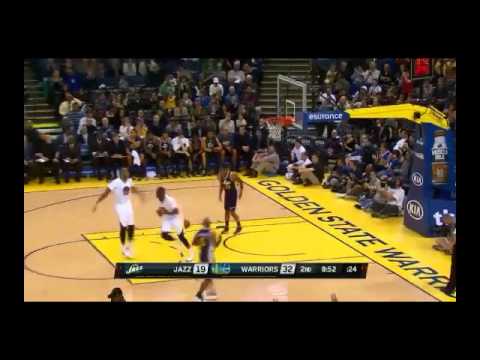 View 4 Items

Fortunately the next game is like a mini-playoff series, a home-and-home, and hopefully we can show some improvement. You know their players and you look at it like a playoff situation. We need to come out and do a better job as a team of competing and getting everything right.

—Richard Jefferson, Utah Jazz guard
SALT LAKE CITY — As far as Richard Jefferson is concerned, playing his former team, the Golden State Warriors, twice in three nights is like a mini-playoff series.
The 1-10 Jazz meet the 7-3 Warriors Monday night at EnergySolutions Arena (7 p.m.), and will try to do better than Saturday night in Oakland, Calif., where they lost 102-88.
In that game, the Jazz fell behind by 14 after the first quarter, then played the Warriors even the rest of the way.
"Fortunately the next game is like a mini-playoff series, a home-and-home, and hopefully we can show some improvement,'' said Jefferson, who came back from a scoreless first half to finish with 12 points Saturday. "You know their players and you look at it like a playoff situation. We need to come out and do a better job as a team of competing and getting everything right.''
Like Jefferson, Gordon Hayward had a slow start Saturday when he had just one point before playing better in the second half and finishing with 14 points.
"At least we have a chance to get our revenge,'' Hayward said about playing the same team two nights later. "We get to see them again at home and hopefully we'll come out with a lot more energy. We've got to be physical with them and not let them get their rhythm going. That's when they're at their best.''
Marvin Williams, who scored 14 points off the bench a day after breaking his nose against San Antonio, is happy to get another crack at the Warriors.
"Playing them again on Monday is going to be key for us,'' he said. "We have to correct some of the things we did wrong out there and build on some of the things we did and hopefully play better on Monday night.
The Warriors, who are certainly one of the league's most entertaining teams if not one of the best, came at the Jazz from all sides Saturday.
If it wasn't Klay Thompson draining 3s (5 of 8) on his way to 25 points, it was Andre Iguodala hitting jumpers from all over (6 of 8, including 3 of 5 from 3-point range). If it wasn't David Lee and Andrew Bogut scoring inside (13 and 12 points, respectively), it was Stephen Curry knifing through the defense and handing out 11 assists. Also scoring in double figures was Harrison Barnes off the bench with 11 points.
The Jazz will need to improve their defense, which they put a lot of emphasis on during the preseason, to stay with the Warriors Monday. All nightlong, Golden State had open looks on 3-pointers.
"We gave them too many kick-out 3s and that's what they're good at — corner 3s and drive and kicks — too many of them,'' said Hayward.
The Jazz started Alec Burks for the second-straight game at point guard in an effort to get the Jazz untracked earlier. However it didn't work as the Jazz fell behind 27-13 after one period and dug themselves a hole they couldn't get out of.
In the second half, coach Tyrone Corbin started John Lucas III and the Jazz played much better, staying within 10 points until midway through the fourth quarter. Lucas made all three of his shots and handed out four assists in one of his better games of the season.
The Jazz also got a good effort from Williams, who came out with a makeshift mask to protect his nose, but discarded it midway through the first half. He said he couldn't see well with it, so he discarded it and promptly hit a pair of 3-pointers and a floating left-handed hook shot in the lane.
"I couldn't see very good, but once I took it off, I was able to see a lot better,'' he said.
"He's a tough guy and he's trying to help us get better,'' said Corbin. "His nose is broken and he fought the whole time, but he didn't want to come out. I really appreciate what he's trying to do for us and help us. He played a good game for us tonight.''
JAZZ NOTES: The Golden State back-to-back miniseries is one of three on the Jazz schedule this year. Later this month, Utah plays Phoenix on back-to-back nights and in January, the Jazz play Minnesota in consecutive games three days apart. ... After Monday's game, the Jazz hit the road again for games at New Orleans Wednesday, Dallas Friday and Oklahoma City Sunday before returning home to face Chicago Monday. ... In his last three games, Jefferson is averaging 16.0 points on 16-of-30 shooting. ... Derrick Favors led the Jazz with 17 points and seven rebounds Saturday. ... Jermaine O'Neal, the 17-year NBA veteran who joined the Warriors this season, went down with a right knee sprain in the second half and was scheduled to undergo additional testing Sunday.