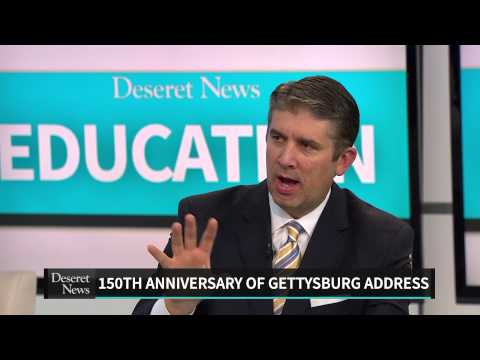 View 4 Items


On this week's "Deseret News Sunday Edition," Dave McCann discusses the 150th anniversary of the Gettysburg Address with a Lincoln scholar, a marriage and family therapist explains why texting may harm a couple's relationship and Deseret News reporter Devon Merling explains the small but growing movement to cut the cable cord.
The "Deseret News Sunday Edition" runs weekly on KSL-TV at 9 a.m. on Sundays and highlights six areas of editorial emphasis: family, faith in the community, excellence in education, values in media and culture, causes related to helping the poor and financial responsibility.
The first segment focuses on education and the 150th anniversary of the Gettysburg Address. The address is one of the foundation documents of the nation and still stands the test of time for its message on freedom and equality. On Tuesday, the nation will celebrate the anniversary and students around the country are getting "Getty Ready." A video demonstrates how much students know about this important piece of history. Lincoln scholar Matthew Holland, who is also president of Utah Valley University, discusses Lincoln's political thoughts and the meaning behind his carefully chosen words.
Segment two focuses on family and the impact of texting on relationships. It is a great way for couples to say "I'm thinking of you." But it's an actual case of being "all thumbs" when it comes to handling arguments, apologies and serious topics via text, according to new research from Brigham Young University. Lori Schade conducted that research and explains the less obvious messages couples send each other when they text.
The third segment features a moneywise segment on the high cost of cable. A small but growing movement of budget-conscious consumers are saying goodbye to cable television and hello to Internet subscription services like Hulu Plus, Amazon Prime and Netflix. This could be a game changer for the broadcast industry. McCann and Merling discuss the pros and cons of cutting the cable cord.
Candice Madsen is a senior producer of special projects for KSL-TV and produces the weekly television program "Deseret News Sunday Edition." EMAIL: cmadsen@ksl.com