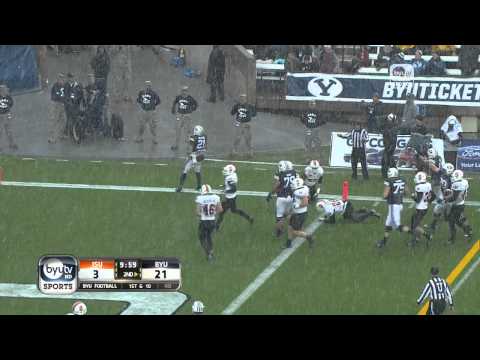 View 58 Items

PROVO — After punching around Idaho State 59-13 Saturday, BYU quarterback Taysom Hill begins Notre Dame week, a challenge and great opportunity for any football player.
Once again, he will be the focal point of a quality defense and opponent.
We saw Hill wide-eyed and a little hyper during a two-touchdown passing performance in a Cougar loss at Wisconsin a week ago. There inside Camp Randall Stadium, Hill and his offensive teammates were stressed by the Badgers' punishing defense. We then saw Hill press somewhat Saturday against Idaho State. He knew his appearance would be short, and he threw three interceptions for the second time in his college career.
Now, Hill and the Cougars return to the road, and the BYU offense will again encounter stress when it takes on the nation's most storied independent in Notre Dame.
How will it go?
That's the big question coming out of the Cougars' expected dominating performance against the Bengals in LaVell Edwards Stadium on Saturday.
Against Idaho State, the Cougar sophomore retired to the bench late in the second quarter in a game the Cougars led 49-3 at intermission.
It snowed most of Hill's time on the field. He completed 11 of 19 passes for 153 yards and two touchdowns. Not too shabby. But he threw three untimely, poorly conceived passes to the Idaho State secondary. That is not a good swing thought for a passer, just as triple bogeys are not good things for a golfer.
Hill ran six times for 62 yards and had a couple of big runs called back.
But here's the deal. The 3-8 Bengal defense came to Provo having recorded just five interceptions all season. Hill's picks padded that statistic by 60 percent. Hill had thrown only nine picks coming into the game. Now he has 12 — a 30 percent increase.
That isn't something to get too cranked up about. BYU, at times against outmanned opponents, has often had less than inspiring things happen when guys know a blowout is imminent. Heck, BYU's defense watched Idaho State run right down the field for a field goal to start the game.
But throwing three picks against the Bengals? If I was him, I'd be ticked.
On the other hand, he knew he had about 30 minutes before Ammon Olsen, Jason Munns and Billy Green would be given well-earned playing time.
Ticked?
Well, I'd feel like I had a couple of tee shots go out of bounds if I were Hill.
And that's about how his quarterback coach Jason Beck may want him as Hill prepares for the Fighting Irish on NBC next Saturday.
On the bright side, Hill's 36-yard TD strike to Skyler Ridley was an NFL throw. On his second touchdown pass, Hill had enough time to spread out a picnic blanket and found tight end Richard Wilson from 15 yards out. Wilson somehow returned from witness protection, got on the field and made a big play.
Running back Jamaal Williams gained 131 yards, with three touchdown runs of 2, 70 and 15 yards. Deploying Williams against Idaho State was akin to giving him a windshield EZ tag on the freeway.
Adam Hine, in Williams' tailwind, gained 141 yards on 10 carries and had a couple of 30-plus yarders called back. While Williams had a 70-yard score, Hine took a handoff on the first play of the second half and raced 64 yards for a score.
This is what happens in a gimme game like this. And that's what made Hill's interceptions so perplexing/understandable.
"I was trying to do too much," confessed Hill of a pick after a snap sailed over his head and he picked it up and fired into coverage.
"That was me trying to make a play out of nothing. I should have thrown it away."
The Cougars have a huge opportunity — for the second time this November — to make some noise, this time in South Bend, Ind. "We feel like we let one get away last year," said senior linebacker Kyle Van Noy.
And so Idaho State, an improved team since last year, shuffled out and on the bus and BYU's Notre Dame week began, the Cougars playing starters for about a half Saturday.
"It's the marquee program in the Mountain West," said Idaho State coach Mike Kramer. "This is a fun place to play. It's the toughest place to have success and it's just a stylish group of coaches, players and fans. I love coming here and would love to play here all the time."
And the paycheck for bruises is nice too.
Dick Harmon, Deseret News sports columnist, can be found on Twitter as Harmonwrites and can be contacted at dharmon@desnews.com.