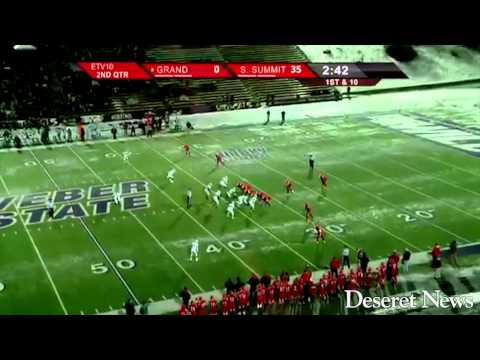 View 12 Items


OGDEN — It had been 25 years since the South Summit football team had won a state title.
So when the Wildcats took the field against Grand County in the 2A championship game at Weber State University on Saturday evening, they didn't waste any time establishing control and running away with the 42-8 victory.
"We have been close so many times to get this," head coach Jerry Parker said afterward, referring to the Wildcats' semifinal and championship losses in each of the last four years.
"We've had great community support this year and we needed it," Parker said. "I'm so happy for everybody."
The South Summit defense made an impact on the game right from the get-go, forcing two Grand County turnovers — an interception and then a fumble — in Grand's first two possessions.
"Our defense has been stellar all year," Parker said of his squad that allowed just 6.9 points per game all season. "It's contagious, especially when we get to kick off to start the game. Our defense just lights a fire and our offense just continues it when they go out."
The Wildcats' offense did carry the momentum, scoring on both takeaways. The Red Devils had run just six plays and only five minutes had ticked off the clock by the time the score was 14-0.
Senior running back Carson Freestone scored the first South Summit touchdown, an 18-yard run, and junior running back Colby Averett carried in the second, a 12-yard scamper.
The Red Devils turned the ball over on downs, punted, and gave up another interception in their next three possessions while the Wildcats added three more scores — a 5-yard run by Freestone, a 4-yard run by Averett, and a 2-yard run by Ty Jones — in their next three possessions, extending their lead to 35-0 at halftime.
"It's just what we planned on," Averett said of the quick start. "Kicking off, getting good field position, and jumping on them early."
His coach added that he challenged his offensive line to create those rushing opportunities.
"I told them, 'It's on you. This one's on you. We're going to play hard and fast, and it's on you,'" Parker said. "And they took it to heart. We ran our base plays. The plays we practiced Day 1 are what we ran, and those kids came out, fired up, and took care of business."
Freestone added one more score in the third quarter, another rushing touchdown from 5 yards out, and Bracken Santos hit all six PATs.
Grand County senior Koi Cook put the Red Devils on the board with 31 seconds remaining in the game, capping a four-minute drive with a 3-yard run. Jacob Francis connected with Kiel Schraft for the 2-point conversion to make it eight points for Grand.
"Their line's big up front. They've got real good skill kids. I knew if we were on, we're on. But if we struggled a little bit, I thought it could be really close," Parker said when asked if he expected such a lopsided win. "I think they run a good program at Grand, especially in the playoffs. We didn't underestimate them at all. We showed up."
Francis, the Red Devils' senior quarterback, led the way with 68 rushing yards and 101 passing yards, completing 7 of 17 passes. Cook totaled 28 rushing yards and 43 receiving yards on two catches as Parker and his defense worked to contain him throughout the night.
"'Koi Cook, No. 10. No. 10, Koi Cook. No. 10, No. 10, where's No. 10?' It was the whole game," Parker said. "We paid attention to where No. 10 was. He's a great football player, a great athlete."
Layton Call had 34 receiving yards and 10 tackles and Edgar Gomez had a game-high 12 tackles.
1
comment on this story
Averett carried the load for South Summit, outrunning the entire Grand County team with 147 rushing yards on 24 carries. He broke the century mark before halftime with 116 yards.
"Averett has been the rock all year carrying the ball. He slithers like no other to get those yards. He keeps his feet moving," Parker said. "If he walked into a room without his gear on, you wouldn't even think he was a football player. He's so unassuming and such a great, nice, quiet kid. But you put a uniform on him, and he's dynamite."
Sarah Thomas earned a degree in Mathematics from the University of Utah and is currently pursuing an MBA at Westminster College. She has been covering sports for the Deseret News since 2008.