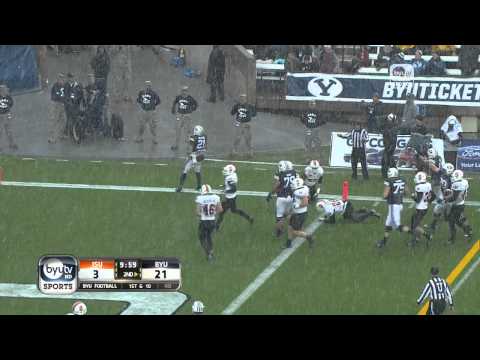 View 58 Items


We just played Wisconsin and had a tough loss and we came back to play the Bengals. I know I need to be better. I felt like the execution offensively was pretty good. I made some mistakes and I need to clean that up before Notre Dame.

—Taysom Hill, BYU quarterback
PROVO — Sandwiched between a pair of high-profile showdowns against Wisconsin and Notre Dame, BYU's final home game of the season Saturday afternoon against lowly Idaho State produced, not surprisingly, an uneven performance.
Amid cold, wet conditions, the good, the bad and the ugly abounded.
There were three first-half touchdowns by BYU running back Jamaal Williams, and three first-half interceptions by quarterback Taysom Hill during BYU's 59-13 win on senior day at LaVell Edwards Stadium.
"I thought we played well. I mean, it's a hard game to get up for," said Hill, who completed 11 of 19 passes for 153 yards in less than one half of play. "We just played Wisconsin and had a tough loss and we came back to play the Bengals. I know I need to be better. I felt like the execution offensively was pretty good. I made some mistakes and I need to clean that up before Notre Dame."
There was the beautiful 36-yard touchdown pass from Hill to Skyler Ridley, then, one series later, an errant snap sailed over Hill's head that Hill picked up and threw downfield, only to be picked off.
Between the two teams, there were six turnovers. The Bengals successfully executed a fake punt, but also had a field goal blocked by Eathyn Manumaleuna.
Yes, it was a sloppy, slippery comedy of errors at times as BYU puréed Idaho State.
"A nice way to send our seniors out," said coach Bronco Mendenhall.
"It's been a great ride playing in this stadium," said Manumaleuna. "We made great memories and great relationships."
An announced crowd of 58,645 braved the wintry elements. After halftime, with BYU leading 49-3, the stands were sparsely populated. Few fans remained when the seniors received their senior blankets.
BYU improved to 7-3 while Idaho State fell to 3-8.
Leading 7-0 after scoring on their opening drive, the Cougars started pulling away midway through the first quarter. On fourth-and-2, Williams raced 70 yards for a touchdown to put BYU up, 14-3. It marked the Cougars' longest run of the season.
"It feels good. It was weird running for a long time," Williams said of the TD. "(Wide receiver) Kurt (Henderson) had a great block. I'm grateful for his block."
Then, early in the second quarter, Hill hooked up with Ridley for a touchdown pass as BYU seized a 21-3 advantage.
In the second quarter, defensive lineman Bronson Kaufusi picked off Justin Arias and glided into the end zone for a 12-yard touchdown. At that point, BYU led, 35-3.
"My foot actually slipped," Kaufusi said. "My guy left to get a linebacker. The quarterback threw the ball and I was right there. I just grabbed it out of the air."
By halftime, the Cougars were ahead, 49-3, and had gained 437 yards of total offense, compared to 88 yards for the Bengals.
In the second half, Mendenhall emptied his bench. "I'm glad we were able to play so many players," he said.
Running back Adam Hine ran 64 yards for a touchdown early in the third quarter. Idaho State scored its only touchdown with 6:33 left in the period on a 6-yard touchdown pass from Arias to Luke Austin.
The Cougars rolled up 578 yards of total offense, including 421 yards on the ground. Hine rushed 10 times for 141 yards, Williams had 131 yards on 13 carries and Algernon Brown gained 61 yards on eight carries.
"I was really impressed with Adam Hine and Algie Brown and so what we really take away from this is the ability to possibly have those two guys play a little bit more to dispel Jamaal," Mendenhall said. "They added another physical presence and showed that they were capable and trustworthy."
Idaho State coach Mike Kramer said that despite the blowout loss, it was a good experience playing against BYU.
"It's the marquee program in the (Intermountain) West," Kramer said. "This is a fun place to play. It's the toughest place to have success and it's just a stylish group of coaches, players and fans. I love coming here and would love to play here all the time."
The Cougars travel to South Bend, Ind., next Saturday (1:30 p.m. MST, NBC) to take on Notre Dame.