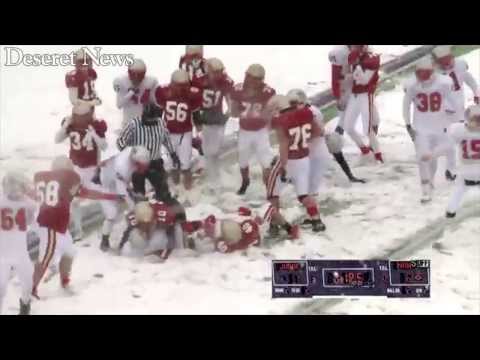 View 10 Items
Buy photos


It means everything. I'm the Cordova without a ring — my dad has three, my brother has two, and I don't have any. So it feels fantastic, it's a wonderful feeling.

—James Cordova, Judge Memorial head football coach
OGDEN — Winning a ring is the thing in the Cordova family.
And Judge Memorial head football coach James Cordova is mighty glad and grateful he'll finally get to wear one of his own.
After all, his father, former Judge coach Gil Cordova, guided the Bulldogs' program to three state championships in a four-year span during the early 1970s. And Cordova's brother, Anthony, helped lead the Salt Lake City Catholic school to its last state title in 1983 — its last title, that is, until this weekend.
Now, after three decades, that long state championship wait is over.
"It means everything," he said Saturday after the Bulldogs turned back Manti 36-22 for this year's 3A title at Weber State's snowbound Stewart Stadium. "I'm the Cordova without a ring — my dad has three, my brother has two, and I don't have any. So it feels fantastic, it's a wonderful feeling.
"I've got one (ring) now, I've got one. I've still got some catching up to do, though.
"This is a great testimonial to these kids and all their hard work because they're not a whole lot different than the same kids that lined up for us last year," the Bulldogs' coach said. "We were 5-5 last year, and this year we won the state title.
"We did what we do. We're a second-half team; we've been a second-half team all season. Our message (after halftime) is come out and do what we do, and that's what we did — we were physical, we attacked. I think we were a little back on our heels to start the game, and Manti was rolling downhill. In the second half, our objective was to come out and attack their offense."
So, after guiding the Bulldogs to their first state title in 30 years, was it worth the wait?
"Oh, absolutely," Cordova said, "absolutely. I don't want to wait another 30 (years) but, yes, it was absolutely worth the wait. I got to be on the sidelines the last time we won it — my brother was the quarterback of that team — and I have very fond memories of that, and I hope we did 'em proud."
Judge quarterback Kaden Elliss ran for a game-high 109 yards on a wintry day in which the Bulldogs ground out 290 yards and completed just one pass. Henry Garcia scored two touchdowns plus a two-point conversion and also had seven tackles on defense, while the Barnett boys — Max and Mark — each had a short touchdown run and Michael Kearns added another one as the Bulldogs (11-2) took home the 10th state title in school history.
"We love this," said Garcia, whose 19-yard touchdown burst up the middle tied the game at 14 early in the third quarter. "We played in the snow our sophomore year and it's been on our minds. We knew today was going to be a real fun game, and we knew defense was going to be what won this game, so that's what we had to do.
"We knew that a lot of other teams have had that (title) shot — 2007 was the last time, I believe —and we knew that we couldn't overlook our opponent. Manti was a fantastic team, they came out and scored first on us. So we knew what we had to do and we came out here and we just started doing it — and we won.
"I had really good blocking by our offensive line — Johnny Garlinghouse, Jake Soinski, Chase Radcliffe, Ethan Driffell, Braden Pelly — all those guys came out and really played hard," Garcia said with gratitude.
But this win was anything but easy. After a scoreless first quarter, Manti's Kamren Fowles scored two second-quarter touchdowns — the second one coming with just five seconds left before halftime — to stake the Templars to a 14-7 lead at intermission.
"At the half, we really just sat down and talked about what we needed to do to win this game, and if we really wanted to win this game," Garcia said. "So we came out with all we could and we won the game. We wanted it more, it seemed like."
However, after third-quarter touchdowns by Garcia and Mark Barnett gave the Bulldogs a short-lived 20-14 lead, Manti's Brad Sego took the ensuing kickoff following Barnett's touchdown and churned 87 yards for a touchdown to put the Templars back on top, 22-20, thanks to a subsequent two-point conversion pass from T.J. Pogroszewski to Seth Jenkins.
That would be Manti's last hurrah, though, as the Bulldogs' defense completely stifled the Templars in the second half, holding them to just 16 net yards of total offense. And Mark Barnett came up with a key defensive play midway through the fourth quarter that helped Judge seal the deal.
With the Bulldogs leading 28-22 following Kearns' 3-yard touchdown run and Garcia's two-point conversion with 10:06 remaining in the game, Manti was pinned deep in its own territory when it tried a halfback pass play.
Barnett picked off the wobbly aerial attempt and returned it to the Templars' 2-yard line. Garcia plowed into the end zone on the next play, and Elliss threw a two-point conversion pass to Pelly to give Judge an insurmountable 36-22 lead with 5:19 left to play, a margin that stood up the rest of the way.
Elliss, whose rushing bursts continually kept Judge drives alive and who also had a team-leading eight tackles on defense, was asked what he was feeling after the game.
"Relief," he said. "We believed that we could do it, and we knew that we should have done it, and now to have actually done it, it's the best feeling ever. I haven't ever felt like this before, it's awesome.
"Proud, we're proud. I just can't believe first off that it's been 30 years (since Judge won a state title). I didn't even know that and now that we did it, it's unbelievable. It feels so good, it's just warming my heart like Christmas.
"You could say we're a second-half team. We came out in that second half and really dominated them," said Elliss, who pointed out that coach Cordova's halftime speech help put the Bulldogs in an angry, title-hungry mood for the second half. "He said we can leave this field No. 1 or we can leave this field No. 2, and it was our choice. And we chose to be No. 1. We came out, we worked harder than we had (in the first half), and I'm just thankful."
The title hopes for Manti (10-3), which had won the previous two 2A state championships before stepping up to the 3A ranks this season, took a serious hit when Fowles suffered a concussion returning a kickoff early in the second half. The Templars' leading ground gainer, with nearly 1,500 yards rushing and 23 touchdowns this season, did not return.
"He hit me helmet to helmet and it gave me a … it rung me," he said of the play that sidelined him for the remainder of the final game of his high school career. "It was tough. I've been playing with those guys since sixth grade; we're best friends and when you get taken out and you can't play, it tears you apart. … I don't know, I could've played but they didn't wanna risk it.
"(Coach Cole Mecham) said hold your head up high," Fowles said. "This was a fun game, a well-fought game, so he said just hold your heads up high."