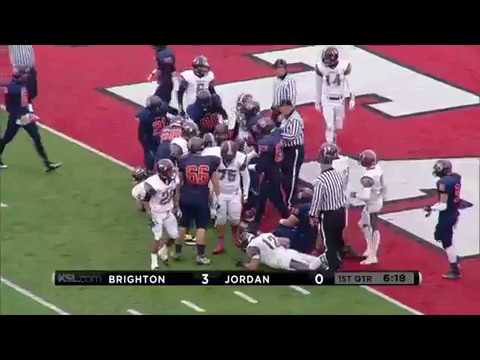 View 2 Items

We grind it out running, work the clock, and just run our good plays. ... It feels great when our offensive line is doing what they're doing. That's the quick tempo that we love and grind-it-out football.

—Osa Masina, Brighton running back
SALT LAKE CITY — With the way Osa Masina was running the football and the way Hunter Dall was kicking it, there was no way that Brighton High wasn't going to advance to this year's 5A championship game.
Masina, a swift and powerful junior running back, ran for 201 yards and three touchdowns, and the sure-footed Dall drilled three field goals along with five extra points to help propel the Bengals to a 44-20 victory over Jordan in Friday's 5A semifinals at the University of Utah's Rice-Eccles Stadium.
Masina, a workhorse who carried the ball 28 times and averaged 7.2 yards per carry, scored first-half touchdowns from 1 and 2 yards away, then added another 1-yard TD in the third quarter as Brighton steadily built a 37-7 bulge before Jordan managed a pair of fourth-quarter scores.
"That's just how Brighton plays football," Masina said. "We grind it out running, work the clock, and just run our good plays. ... It feels great when our offensive line is doing what they're doing. That's the quick tempo that we love and grind-it-out football.
"They have all season and they're not stopping," he said of his O-line opening up gaping holes for him to run through. "That's just how Brighton football is — we open holes and we run the ball."
Brighton quarterback Robbie Hutchins had plenty of praise for his hard-running, tough-to-stop teammate. "Osa is obviously an amazing player, and he had huge holes to run through tonight," Hutchins said. "He took full advantage; we all did. But yeah, having a player like Osa helps me so much. How he runs the football opens it up for me and for everyone."
Meanwhile, when the Bengals couldn't punch the ball into the end zone, Dall was there to finish up. He hit three first-half field goals — from 31, 24 and 32 yards — to help stake Brighton to a 23-7 halftime lead. It matched his career best for field goals in a game, as he also hit three early last season in a game against Sky View. The senior placekicker was true on all five of his PATs, too.
"That was the best game I've had until now," Dall said of last year's Sky View game. "I feel great; it was a lot of fun.
"What we call our Bengal Wall, our field goal unit, did a great job. We've had a couple blocked earlier in the season, but they've really stepped it up and they're playing great, so it's a lot of fun.
"It's a little cold and hard to stay warm, and the goalposts are a little narrower in college than they are in high school," he said. "But once you adjust to it, it's a lot of fun. I was excited to play here; this is the first time I've been out here, and I'm a huge Utah fan, so it's been a lot of fun."
With the win, Brighton (12-1) advances to next Friday's 5A championship game and is looking forward to a much-anticipated rematch with Bingham, the only team to beat the Bengals this season.
3
comments on this story
"This is not finished yet," said Masina, who tweaked his ankle in the second half but insisted it was "no big deal. ... We've still got one more and, you know, we're gonna go do our best to play Brighton football next week.
"We're always confident in our team and confident in our coaches, but seeing how far we've come and what we've done so far is great.
"They're a great team and a great program, and they got us early," Masina said of the anticipated title showdown against the Miners, "so we're looking to get 'em. We've been waiting for this for a while."
Well, the wait is almost over.
EMAIL: rhollis@desnews.com