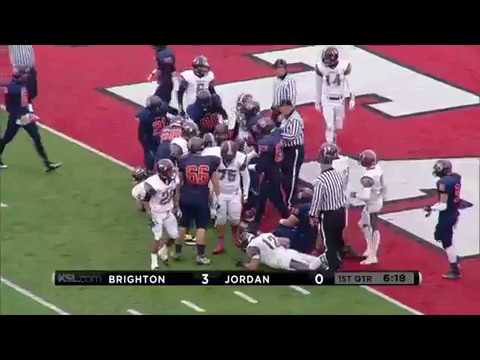 View 8 Items

I'd rather go out with a championship than have more yards than I had last year. I'm just trying to continue to work hard and do what my coaches say.

—Jordan quarterback Austin Kafentzis
SALT LAKE CITY — The minute Jordan captured the 2012 5A state championship, whispers surfaced. The chatter morphed into criticism after the Beetdiggers started 1-3 this fall.
Could reigning Mr. Football, Austin Kafentzis, carry his team without the supporting cast of an elite offensive line and receiving corps? The chatter softened with three straight wins to climb above .500 and eventually silenced when Jordan qualified for its fourth-straight semifinal appearance.
Despite the 'Diggers 44-20 loss to Brighton at Rice-Eccles Stadium Friday, the question was answered profoundly — yes.
Kafentzis tied the state record for single-season 100-yard games (12), and tied for second in consecutive 100-yard performances with 11 straight to finish the year. His 4,795 yards ranks fourth all-time while his 50 total touchdowns (tied-10) and 30 rushing scores (tied-12) both rank in the top 12 historically.
Expectedly, Kafentzis deferred credit to his teammates and focused his attention on the season-ending loss.
"I'd rather go out with a championship than have more yards than I had last year. I'm just trying to continue to work hard and do what my coaches say," he said. "My team is making plays behind me, and they're the reason why I have all those numbers. It's not just me. I just like to give credit to my line and all my receivers that played for me this year."
Kafentzis had perhaps his most un-Kafentzis performance of his three-year high school career. He finished with 148 yards with two touchdowns on 27 carries while completing 15 of 38 attempts for 188 yards with one interception. The majority of the yardage came in the closing minutes with the game well in hand.
"They were the better team tonight," Kafentzis said in his very Kafentzis-like modesty. "They came out with fire and ready to win, and our team couldn't pull everything together when we needed to and it drifted away from us. They're definitely the better team — I give them all the props for winning. I hope they go out and win next week."
The junior now owns four state records: total offense (13,909 yards), total touchdowns (149), rushing touchdowns (75) and 100-yard games (27). He also claims seven additional top-10 marks: second in touchdowns scored (75), second in passing yards (9,024 yards), second in completions (593), second in attempts (1,040), third in carries (703), fourth in rushing yards (4,895) and eighth in touchdown passes (74).
Despite advancing farther than expected and surpassing his own statistical greatness, Kafentzis refused to label the season a success story.
18
comments on this story
"No, definitely not," he said. "You always want to go out with a win and a championship. It's going to help us to work harder. We need to work on it in the offseason. I'm going to be a captain and we're going to do it. We'll come out next year — I've got a lot of my guys returning, so we'll see. Maybe that's what we needed to make sure everyone was clicking and on the same page."
It's that same competitive nature that's propelled him into one of the greatest individual prep players the state has produced. It's also the same mentality that had Kafentzis looking toward the future.
"Got to get back to work on Monday," he said.
Email: tphibbs@deseretnews.com
Twitter: @phibbs_