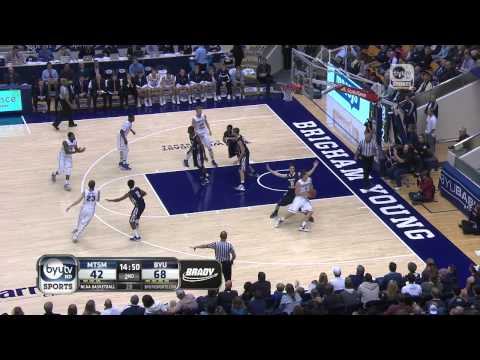 View 2 Items

We all knew coming in we'd have bigger roles tonight because Ty is such a big key to our team. He scores so many of our points. We all knew we had to step up and we did that.

—Anson Winder, on Tyler Haws
PROVO — Thanks to a promotion, BYU fans get free yogurt when the basketball team scores 80 points this season.
The way this Cougar squad plays — with a relentless, 40-minutes-of-heck, go-hard, go-fast style — a certain yogurt company could be out of business by March.
Even without leading scorer Tyler Haws, who was sidelined due to an injury, the Cougars poured in the points in a 108-76 rout of Mount St. Mary's Friday night at the Marriott Center.
Haws apparently suffered a lower abdominal strain during Monday night's 112-103 victory at Stanford. It wasn't until shootaround Friday afternoon that it was determined that Haws wouldn't play.
Haws sat near the end of the bench during the game, wearing warm-ups and presumably enjoying the show.
The junior guard is "doubtful" for Saturday's game (7:30 p.m. MST, BYUtv) against Colorado Mesa.
In Haws' absence, Anson Winder scored a game-high, and career-high, 22 points. He was one of six Cougars to score in double figures, along with Eric Mika (20), Frank Bartley IV (16), Skyler Halford (15), Kyle Collinsworth (13) and Matt Carlino (10). Collinsworth recorded a double-double by grabbing 10 rebounds.
"We all knew coming in we'd have bigger roles tonight because Ty is such a big key to our team," Winder said. "He scores so many of our points. We all knew we had to step up and we did that."
"Anson came in and really had a great game filling in for Ty," BYU coach Dave Rose said. "The rest of the bench stepped up. A lot of guys got playing time and responded with positive nights with that playing time. … Anson was so active, which was great to see. He always seemed to be in the right spot. Breaking that press with four guys on the floor that were really good ballhandlers allowed us to get some easy shots."
BYU shot 60 percent from the field, and Winder (9 of 12), Mika (9 of 10) and Bartley, IV (6 of 7) combined to shoot 24 of 29.
Through the first three games this season, the Cougars are averaging 100.3 points per contest.
"Coach wants us to score as many points as possible. Whether it's 100 or 120 or high 80s or whatever it is, he wants us to score as much as we can each game," Winder said.
Five of BYU's newcomers combined to score 56 points for the Cougars.
"All in all, the best thing from this game is a lot of young guys got a lot of minutes, and they produced in those minutes, which is a good sign," Rose said.
Winder scored 14 points in the first half on 5-of-8 shooting from the field as BYU raced to a 54-34 halftime advantage.
The Cougars (3-0) opened the second half with a pair of Mika dunks, and 3-pointers by Nate Austin and Carlino to open up a 64-38 lead.
"Our guys did a good job of getting the ball inside to Eric, especially early in the second half," Rose said.
A Mika dunk with just under five minutes remaining pushed the Cougars over the 100-point threshold, 101-65, for the second consecutive game. For the game, BYU scored 41 field goals on 26 assists.
"We moved the ball well," Winder said. "We all played with a lot of confidence and shared the ball."
Friday's game was BYU's first in the College Basketball Experience Hall of Fame Classic.
NOTES: At halftime, BYU fans recited Abraham Lincoln's famous speech, the Gettysburg Address. The recitation was led by Stan Ellsworth, host of BYUtv's history show "American Ride," and a group of fifth-graders from Wasatch Elementary. …. Bartley hit his first six shots from the field and was 3 for 3 from the free-throw line to go along with seven rebounds. … Austin finished with nine rebounds. … Mount St. Mary's Rashad Whack scored a team-high 19 points.