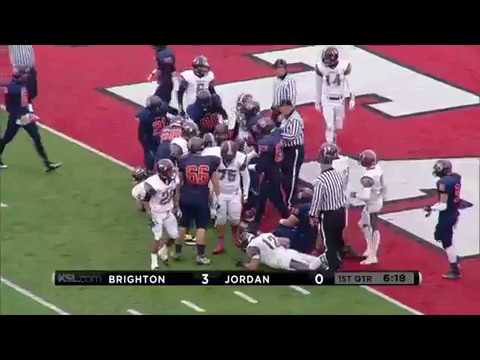 View 9 Items
Buy photos

This feels amazing and all the credit goes to my incredible offensive line and the defense. We did it and it's just overwhelming right now.

—Brighton quarterback Robbie Hutchins
SALT LAKE CITY — When you win the battle in the trenches, everything else tends to fall into place.
That was the model set forth by Jordan during its championship run last season.
Brighton apparently took copious notes.
The Bengals matched up against the Beetdiggers in the 5A state semifinals Friday at Rice-Eccles Stadium and completely overwhelmed the defending champions at the point of attack. As a result, Brighton dominated time of possession — crucially keeping the ball out of the hands of Jordan star quarterback Austin Kafentzis and the potent 'Digger offense — en route to a convincing 44-20 victory.
"This feels amazing and all the credit goes to my incredible offensive line and the defense," said Brighton quarterback Robbie Hutchins. "We did it and it's just overwhelming right now."
Brighton set the tone early with time-consuming drives that provided a 10-0 lead out of the gates and a 23-7 lead at the half.
"We went in with the mentality that we were just going to take it to them, and we did that," Hutchins said. "I think that first drive and the drive after really gave us a lot of confidence and we just built on it from there."
The Bengals opened the game with a 10-play scoring drive that ended in a 31-yard field goal by Hunter Dall. After a three-and-out and subsequent shanked punt, Brighton was set up in prime field position at Jordan's 27-yard line. Five plays later saw running back Osa Masina fall into the end zone from 1 yard out for a quick 10-0 lead midway through the first quarter.
The rest of the half saw Brighton offensively chew time off the clock while defensively forcing multiple three-and-outs and halting a typically prolific Jordan offense.
"Against those guys, if you give them a lot of opportunities, you're in trouble," said Brighton coach Ryan Bullet. "You kind of have to shorten the game against Jordan and keep the ball out of their quarterback's hands, and that's what we did."
Brighton finished the half with a 16:29-to-7:31 advantage in time of possession and 288 yards to just 72 for Jordan. Kafentzis, last season's Deseret News Mr. Football, was held to just 22 yards rushing and 2-12 passing for 31 yards at the half.
The lone Beetdigger score came after a Clay Moss-blocked Brighton punt set the 'Diggers up in prime field position on Brighton's 16-yard line. Five plays later Moss scored on a 2-yard touchdown run — cutting Brighton's lead to 10-7 toward the end of the first quarter.
From that point, however, Brighton seemed to push a little harder on the gas pedal and quickly dispelled any notions of a Beetdigger comeback.
"They're pretty relentless," Bullet said of his team. "If it's (against) a good team or not that good of a team, our kids play the same way. We call it 'up 20, down 20' — you play the same way."
The second half followed suit as Brighton cruised to a 44-20 lead.
The Bengals were led by Masina, who finished with 201 yards rushing and three touchdowns. Hutchins finished with 14-23 passing for 198 yards. He was quick to credit all of his success to his teammates — particularly his offensive line.
"Our offensive line makes everything I do easy," Hutchins said. "The defense puts me in good spots; the offensive line is amazing; and I have amazing receivers (and) Osa is an incredible player. It's easy when you have guys like that around you. I'm the luckiest quarterback in the state."
With the win Brighton advances to the 5A state championship game, which will take place at 2:30 p.m. next Friday at Rice-Eccles stadium.
"We've been here before in the championship, and we've been on the other end not making the playoffs," Bullet said. "It just shows a senior group that is believing. These are four-year kids for me that came in and just bought in, bought in, and bought in. I'm excited for them having an opportunity to play in a state championship game."