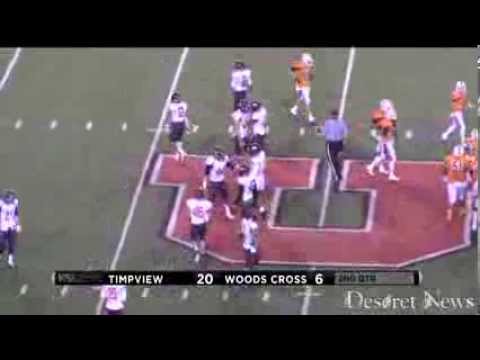 View 7 Items


Woods Cross was a very physical team. We had a good week of practice and, gosh, it was fun playing against them.

—Britain Covey
SALT LAKE CITY — Britain Covey has been a key component of Timpview's success all season long — and he didn't even begin the year as the Thunderbirds' starting quarterback.
A junior receiver, Covey moved to the quarterback position two games into the season, and the T-Birds haven't looked back. They advanced to the 4A championship game with a 37-6 victory over Woods Cross at Rice-Eccles Stadium on Thursday evening.
"This was a physical game," Covey said afterward. "Woods Cross was a very physical team. We had a good week of practice and, gosh, it was fun playing against them."
Covey finished with 204 passing yards and 68 rushing yards. He threw one interception but completed 21 of 26 passes and connected with Kendall Tu'ua and Rhett Van Leeuwen for touchdowns.
"He's a fantastic football player, but I'm proud of our guys and how we corralled him a little bit," said Woods Cross coach Justin Spencer. "I didn't give him as much credit for throwing the ball as he did. He was throwing it down the field in the zones and he did a really, really good job. So credit to him."
Covey has recorded 1,617 passing yards and 24 touchdown passes on the season. He was the leading rusher in Thursday's game, bringing his total on the ground to 1,179 for the year.
"He's hard to corral," Timpview coach Cary Whittingham said. "He ran the ball a little more than we would have liked and got himself in spots to take some hits, and that's not the game plan. But when that needs to happen, he's more than capable of doing it."
The junior said the key to his, and the T-Birds', success against the Wildcats was his ability to make those moves with his feet and find the open guys downfield.
"(The Wildcats) were doing a lot of edge blitzes, which means overpursuing," Covey said, "so I was able use their overpursuit to my advantage and make a little move and get outside. We tell our receivers, 'When I'm scrambling, find open grass,' and that's what they did. Credit goes to the receivers tonight."
All in all, making the switch from receiver to passer has been a smooth transition for Covey, who had been in that role previously in his football career.
"We adjusted the offense to my strengths, like the ability to roll out and pass, throw on the run, which was really helpful," Covey said. "Our team is so unselfish, making the change was easy."
Sarah Thomas earned a degree in Mathematics from the University of Utah and is currently pursuing an MBA at Westminster College. She has been covering sports for the Deseret News since 2008.