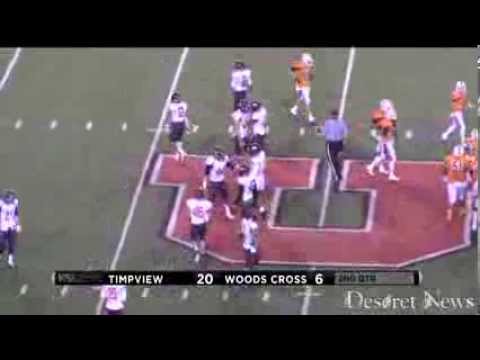 View 6 Items

We made way, way, way too many mistakes early on in the game, and you can't do that in this situation against a team like that. Our kids battled back from (the early turnovers), but it affected us.

—Woods Cross coach Justin Spencer
SALT LAKE CITY — This was a history-making season for the Woods Cross High School football program, which proudly reached the state semifinals for the first time in two decades.
But on Thursday evening, the Wildcats ran into a fearsome buzzsaw in the form of defending 4A state champion Timpview, which feasted on three first-half Woods Cross turnovers and then employed its own dominant defensive performance to crush the 'Cats 37-6 at Rice-Eccles Stadium.
Woods Cross, which finished its stellar season 11-2 following its first appearance in the semis since 1993, wound up with just 97 net yards of total offense — including a scant 26 yards rushing on 25 attempts.
The Wildcats were outmanned and manhandled by the Thunderbirds (12-1), and their head coach Justin Spencer, knew it all too well.
"Obviously we're disappointed," Spencer said. "We made way, way, way too many mistakes early on in the game, and you can't do that in this situation against a team like that. Our kids battled back from (the early turnovers), but it affected us.
"We hadn't made those mistakes, so we've got to learn from it. … We had to make plays, and we just didn't make 'em. We couldn't get any of our big plays going — we've kind of been a big-play offensive team all year — and credit to them, credit to that (Timpview) defense. It's for real. When you've got linebackers that can cover from the hash to the sideline and play the run, too, that's tough.
"These seniors did a fantastic job in getting us here, so we're grateful for them and all that they've done for us," Spencer said. "So hopefully these young kids can learn from that. We play a whole bunch of juniors, and hopefully our juniors can leave with a taste of it and have that motivate them to try to make it back again."
Timpview jumped out to a 20-0 lead midway through the second quarter, including a fumble recovery in the end zone for the T-birds' second score, before Braxton Gunther got Woods Cross on the scoreboard on a 19-yard run that made it 20-6.
But that was the Wildcats' last hurrah, as Timpview's defense denied the 'Cats after that and stopped them on a key fourth-and-short play in T-bird territory in the third quarter.
Comment on this story
Spencer said his team was ready for this prime-time moment but that those first-half miscues put the Wildcats in a hole they couldn't crawl out of.
"I think we were ready for the stage, and I don't think that the stage scared us at all," he said. "I just think that we made some critical mistakes and uncharacteristic mistakes. I don't think it was the stage. I think we were ready for this. We just made some mistakes.
"Our defense played a lot of plays tonight and they battled — they battled all the way to the end. And so that's a building block, definitely."
EMAIL: rhollis@desnews.com