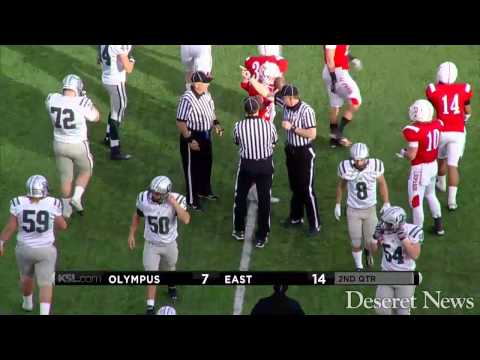 View 7 Items

This is a tough one to go out on, but this is a heckuva team. ... I can't over-emphasize how much I love this group of friends, the coaches and the players alike, and I'm proud of what they've accomplished this year.

—Olympus coach Aaron Whitehead
SALT LAKE CITY — A crushing defeat in the state semifinals could not diminish all the great things that the Olympus High football team accomplished this season.
Sure, the Titans committed a couple of critical mistakes in Thursday's 4A playoff showdown against powerful East High, and the undefeated Leopards capitalized in pulling away from an early 14-all deadlock and dealing Olympus a lopsided 47-21 loss at the University of Utah's Rice-Eccles Stadium.
But coach Aaron Whitehead will surely remember these Titans — a group that reached the semifinals for the first time since 1998, when they won the state championship — for the rest of his life.
"I'll tell you this — that's a great group of young men, one of the best groups of young men I've ever been around," he said of his team, which wound up 10-2 with the disappointing defeat. "I love 'em to death and this is a tough deal. But this team has done more than any team in the last 15 years at Olympus, and I'm proud of 'em. They're great kids.
"This team refused, all year long, they refused to back down to anybody. And we didn't back down to East. Everybody talked about how big and how bad they were, and guess what? They were big and they were bad — bad in a good way — but we didn't step down from the challenge. ... We have a lot of heart and you can tell this team loves each other.
"And it's just sad," Whitehead said. "This is a tough one to go out on, but this is a heckuva team. ... It's just tough to see it come to an end. ... I can't over-emphasize how much I love this group of friends, the coaches and the players alike, and I'm proud of what they've accomplished this year. This is the first team in school history to win three straight region titles; we made it to the (Rice-Eccles) turf for the first time in 15 years, so I'm very pleased with them and I'm happy to wear my Olympus gear anywhere in the state of Utah."
Thursday just wasn't the Titans' day, though. East safety Tua Laupata returned an interception 54 yards for a first-quarter touchdown, and then when Olympus muffed a punt deep in its own territory, the Leopards' Avery Hopkins recovered the loose ball in the end zone for a touchdown late in the first half to give East a 21-14 halftime lead.
Then late in the third quarter, East's Lorenzo Manu came up with a 26-yard pick-6 of his own to extend the Leopards' lead to 34-14, and the Titans never recovered.
"We're just glad we were able to get this far and play hard," said Olympus quarterback Chase Manning, who ran for one touchdown and threw for another one. "I love my team and I love being with them, and I'm glad I'm on this team.
"Those things happen," he said of his two interceptions and the Titans' muffed punt. "It's just part of the game and it didn't go our way in this game."
Olympus showed it's never-quit spirit when, despite its discouraging deficit, Coleman Meier broke off a 78-yard scoring scamper in the fourth quarter.
"We take pride in never quitting, and that's kind of an example of it today and throughout the whole rest of the season," Coleman said of his late TD run. "Other than winning the championship and winning this game, I think that was the perfect way to end — not quitting. That's just a perfect example of how our season was.
"We broke everyone's expectations. At the start of the season, nobody even looked at us really and now, look where we are — we made it to the semifinals.
"East is great; they work hard and you can see it in the way they play," Meier said. "They've got a lot of playmakers. ... It was an honor to play someone like East. They weren't in our region but we always kept our eye on them. ... To stick with them for the first half is just awesome and it just shows what we can do. And they second half shows what East can do. They're playmakers and they work hard."
Coach Whitehead agreed with that assessment of the power-packed Leopards (13-0), who came into Thursday's semifinal averaging 51.5 points per game this season and a whopping 58 ppg over its previous seven wins.
8
comments on this story
"That's a really good football team, and we hung with 'em and we played well against 'em," said Whitehead, who coached at East High from 2003-07. "Our defense did, and I wish our offense would've — I didn't do a good enough job preparing them. I feel terrible about that. But I'll tell you what, their defense did an outstanding job and you play against a team like that, you can't make the mistakes we made.
"The worst saying ever, and it's one that I refuse to say is 'What if?' And we don't want to play a game of 'What ifs.' We chalk this up to experience and these young men, I'll tell you what, they've faced adversity all year long and they've come out on top the majority of the time.
"And they're going to have experiences in life when they're going to face adversity again as fathers, and they won't back down," he said, his voice shaking with emotion. "I'm proud of them."
EMAIL: rhollis@desnews.com