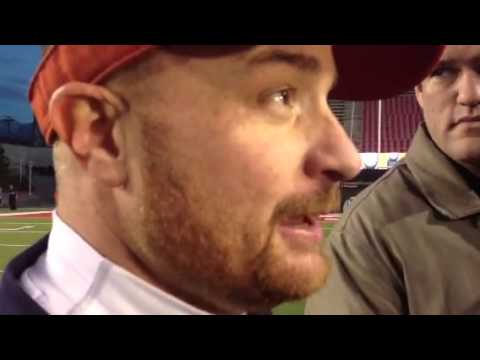 View 9 Items


I told our guys on Thursday during walk-through that our offense is going to score, but if we're going to win the game, it's going to be because of defense.

—East defensive coordinator Gary Bowers
SALT LAKE CITY — Tua Laupata put some demons to rest Thursday afternoon at Rice-Eccles Stadium.
The East senior safety spent the last year haunted by his disappointing performance in last year's semifinal loss to Timpview. For 12 long months he worked hard to turn that regret into resolve, and Thursday afternoon he led the Leopards' defense in a game-changing performance.
"Tua had a rough game in the semis last year, and it's been his goal ever since then to come out and play the best he can," said East defensive coordinator Gary Bowers after East defeated Olympus 47-21. "He steps up every time he can, and he makes big plays. That's his third interception for a touchdown."
Laupata wasn't the only member of the Leopards' defense to help turn what started as a close game into a lopsided victory. But he certainly started the ball rolling when he intercepted an Olympus pass and ran 54 yards for East's second score of the first quarter.
Bowers said Laupata learned from the mental mistakes he made last year.
"He's just been focused," Bowers said. "Everything he does — in the weight room, on the practice field — he's just so focused. It's been a personal goal for him to play better, and he has."
A lot of coaches preach the benefits of emphasizing effort on defense, but it's much more difficult to convince teens to buy into that philosophy when most of the glory goes to an offense.
"I told our guys on Thursday during walk-through that our offense is going to score, but if we're going to win the game, it's going to be because of defense," Bowers said. "I think our guys believe it because we've played so well. Nobody talks about our defense because our offense is so good, and that's understandable. But we've got the second best defensive team in 4A. They know what they have to do every time they get on the field, and they go do their jobs. I couldn't be more proud to be their coach."
He said the semifinal victory was "beautiful."
Especially because it was the Leopard defense that led the way.
"I love it when my defense scores as much as the other team's offense," Bowers said with a smile. "Since we got beat in the semis last year by Timpview, I don't think there has been a team that's worked harder off the field than our kids have."
While Laupata's pick-six gave East a 14-7 lead, it was junior Lorenzo Manu's interception, which he returned 26 yards for a touchdown, in the third quarter that put the game out of reach for the Titans with a 34-14 lead.
Comment on this story
"Lorenzo is my free safety, my quarterback on defense," Bowers said. "He's a junior, and he leads the state interception with 11. He's always in the right spot at the right time. He just plays great."
Lorenzo said when the Leopards step onto the field in next week's 4A championship game they will be playing for last year's seniors who didn't get the benefit of a second chance.
"We're just blessed to be here," Laupata said, smiling at Manu, "and to have this opportunity."
Twitter: adonsports
Email: adonaldson@deseretnews.com