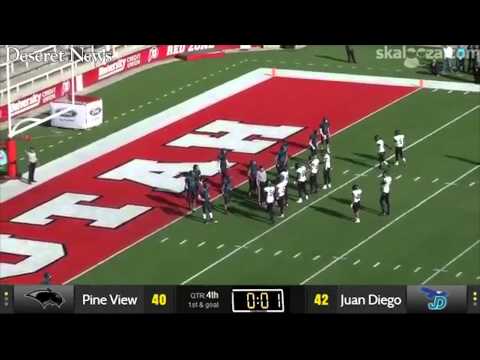 View 2 Items
Buy photos

SALT LAKE CITY — Gary Andersen, former coach of the Utah State Aggies and current coach of the Wisconsin Badgers, incessantly repeated this mantra: Players make plays, Players win games.
Thursday afternoon in Rice-Eccles Stadium, Kody Wilstead, Triston Duran and Jake Bangerter of Pine View High School did just that. They made a pair of unbelievable plays that got Pine View to overtime in its 3AA semifinal game against top-ranked Juan Diego.
Trailing 42-34 with fewer than 20 seconds remaining, Wilstead threw over the middle into quadruple coverage to Duran, who broke multiple tackles and dashed for the end zone. En route to the house, he hurdled a fifth defender, eventually scoring a touchdown. He then immediately fell to the ground, having taken a very painful hit during the play.
Now down two, Pine View went for two to tie the game and send it to overtime. The play broke down. Wilstead scrambled, but found Bangerter again in the back of the end zone to knot the score at 42 apiece and send the game to overtime.
This video captures those two plays.
Pine View won the game in overtime. It will face the winner of Friday's semifinal between Dixie and Desert Hills in the championship game next Friday.
Landon Hemsley is the sports Web producer for DeseretNews.com. Email: [email protected]. Twitter.com/EarlOfHemsley