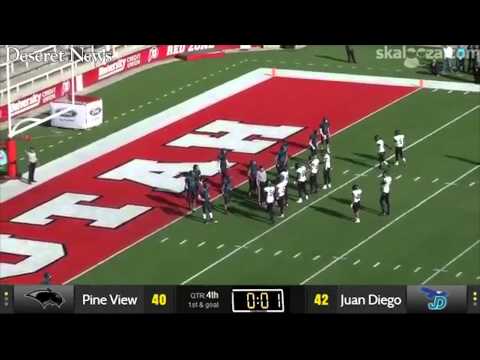 View 10 Items
Buy photos


Running back (Triston Duran) has more heart than anyone on this team, so I was like all right, we've got to get the ball in his hands.

—Quarterback Kody Wilstead
Kody Wilstead was in no position to be picky with his receiving options with Pine View trailing 42-34 with 13 seconds remaining and the ball at the 49-yard line.
With that said, Wilstead knew exactly whose hands he needed to get the ball in.
"Running back (Triston Duran) has more heart than anyone on this team, so I was like all right, we've got to get the ball in his hands," said Wilstead.
He never could've imagined the seam route would result in one of the most talked about plays of the 2013 high school football season. Wilstead dumped the ball over the middle to Duran, who bounced off three defenders at the 20-yard line and hurdled another at the 5 on his way to an improbable 51-yard touchdown reception against a stunned Juan Diego defense.
Duran reinjured a separated shoulder injury diving into the end zone with one second remaining. Afterward he said he was fine, "it's just pain."
It's exactly the type of response coach Ray Hosner would've expected.
"That's who that kid is, there's no quit in him ever. He's just an amazing athlete, he's fought hard for us for four years, he doesn't know how to quit, he just willed himself into that end zone, I don't know how he got in there," said Hosner.
Even after miraculously bouncing off three defenders, had Duran not hurdled that last defender a few yards from the end zone, time likely would've expired on Pine View's season. Asked afterward, Duran said he didn't even see Juan Diego's safety until the last second and the leap was reactionary.
Earlier in the fourth quarter, Duran hauled in a 50-yard touchdown catch that gave Pine View a 34-28 lead, its first of the game.
Duran finished the game with two receptions for 101 yards and two scores.
Hosner said Duran's last touchdown was 47:47 in the making.
"We ran the wheel so much on them that they were extending outside to the edge so we knew we had the middle of the field on them," said Hosner. "Coach (Scott) Anderson, my offensive coordinator, made a great call, we knew we could get the ball to Triston in middle of the field, we set them up all day to get that little seam route."
Even after the touchdown, Pine View still had to get a two-point conversion, which Wilstead did to send the game into overtime tied 42-42.
Pine View went on to win in overtime, a dramatic turnaround after falling behind 14-0 at the half. Duran wasn't surprised at all.
"We're a second-half team," said Duran, who now has 11 touchdowns on the season.