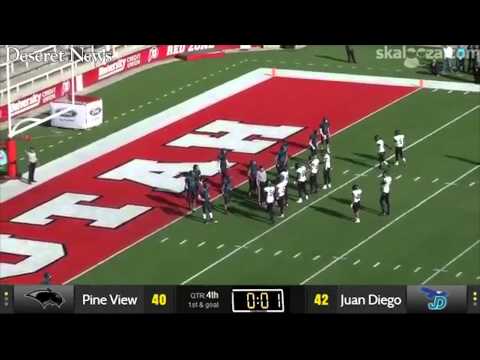 View 10 Items


Not every team can win a state championship, and that's the unfortunate thing about playing football, but these kids will realize in time what they accomplished and be incredibly proud of it.

—Juan Diego coach John Colosimo
SALT LAKE CITY — Juan Diego players probably won't see the silver lining in a heartbreaking 48-42 overtime loss to Pine View in the 3AA state semifinals for a while, but eventually will.
That was the message conveyed by Juan Diego coach John Colosimo to his devastated players following Thursday's loss at Rice-Eccles Stadium. Untimely unforced errors combined with a Pine View second half resurgence to eradicate a fast and impressive start by the Soaring Eagle.
"Pine View just made some great plays, so the credit goes to them," Colosimo said. "We certainly had our opportunities, but we blew a couple of tackles, made too many mistakes we shouldn't have, but I'm overall extremely proud of the kids and how they competed."
Juan Diego stormed out to a 21-7 lead and seemed poised to cruise to victory at the half. Despite its well-earned reputation of overwhelming opponents with a steady diet of runs, it was Juan Diego's big plays that built the lead.
Passing plays of 44 and 60 yards from quarterback Stephen Nelson to Harrison Jones and Chase Williams respectively highlighted the first half.
"They were cheating up to stop the run and we thought going in that we could take advantage of that going in," Colosimo said. "We came out well-prepared and we were able to build a good lead, but just couldn't hang on."
Penalties played a major role in stunting Juan Diego scoring opportunities as Pine View came creeping back. Penalties aside, a scored touchdown may have proved the biggest mistake by the Soaring Eagle, leading to a last-minute touchdown.
With Juan Diego holding a 35-34 lead, and driving deep in Pine View territory with under a minute to play, Jesse Springer burst through the line to score a touchdown to give his team a 42-34 lead instead of just taking a knee and running out the clock.
Pine View took advantage and responded with a last-second touchdown to send the game to overtime and eventually pull the improbable comeback.
"One play doesn't win or lose a ballgame, but those were certainly big plays for them," Colosimo said. "I think Pine View just proved more physical than us and they really wore us down throughout the course of the game."
Following the game, Juan Diego players were understandably devastated as Colosimo tried to impart words of comfort.
Comment on this story
"Not every team can win a state championship, and that's the unfortunate thing about playing football, but these kids will realize in time what they accomplished and be incredibly proud of it," Colosimo said. "Right now it's tough for all of them, but they'll get over it and understand they gave it their all.
"This senior class has been involved with four region titles, a state championship, and it's one of the best I've had the honor of coaching," he continued. "It's sad to end it like this — in a game where you had chances, but once the pain goes away they'll all realize what they've done."
Email: bgurney@desnews.com
Twitter: @BrandonCGurney