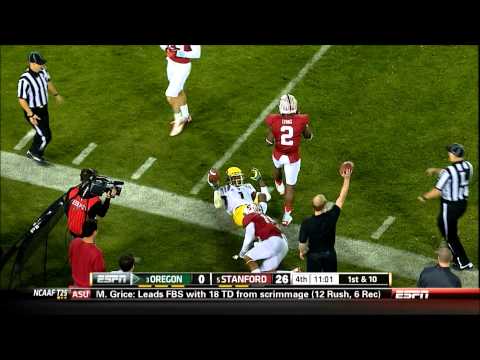 View 3 Items

...for a while there they looked invincible — and Stanford proved that not to be the case. But they're still a heck of a football team and one of the best teams in the country. They've got all our respect.

—Kyle Whittingham
SALT LAKE CITY — There's a quack, make it a crack, in Oregon's duck dynasty. Last week's 26-20 loss at Stanford proved that the Ducks aren't invincible.
"I guess that's what that told us — for a while there they looked invincible — and Stanford proved that not to be the case," said Utah coach Kyle Whittingham. "But they're still a heck of a football team and one of the best teams in the country. They've got all our respect."
Despite the loss to the Cardinal, the sixth-ranked Ducks (8-1, 5-1) enter Saturday's game with the Utes (4-5, 1-5) at Autzen Stadium with an impressive list of accomplishments. They're currently ranked No. 1 in the Pac-12 in rushing offense, pass efficiency offense, total offense, scoring offense, pass efficiency defense and scoring defense.
Individually, quarterback Marcus Mariota leads the conference in pass efficiency and passing yards per completion. He ranks second in total offense with 336.2 yards per game. Running back Byron Marshall (925 yards rushing) and wide receivers Bralon Addison (43 catches) and Josh Huff (41 catches) are among Mariota's top weapons, as is the speedy De'Anthony Thomas.
Defensive standouts include linebacker Rodney Hardrick (three fumble recoveries), linebacker Derrick Malone (80 tackles), defensive back Terrance Mitchell (four interceptions) and defensive end Tony Washington (7.5 sacks).
On special teams, Addison is averaging 19.7 yards on punt returns.
"On film, they're very impressive," Whittingham said. "They've got speed at all the perimeter positions."
Stanford, though, found a way to slow it all to the point of being victorious — for the second consecutive year.
"It provided a little bit of a blueprint, even though you can't all of a sudden transform who you are and try to become Stanford," Whittingham said. "I mean, you can't do that, but it gave us some good ideas."
Executing them, however, may be easier said than done. The Ducks, after all, rolled through Pac-12 opponents California, Colorado, Washington, Washington State and UCLA by a combined score of 261-108 before being shut down by Stanford on Nov. 7.
The Cardinal, who dropped a 27-20 decision to the Utes on Oct. 12, held the Ducks to just 62 yards rushing and held the ball for more than 42½ minutes.
While noting that the best defense against a team like Oregon may be a good offense, Whittingham and Utah's defensive unit have to contend with Mariota.
Although the Heisman Trophy candidate is hampered by a sore knee, Mariota told reporters he will "for sure" play Saturday against the Utes.
"It starts with the quarterback, one of the best, if not the best, in the country," Whittingham said. "In the Pac-12, we just see one great quarterback after another week after week after week. He may be the best of them all."
The Utes counter with a defense that leads the nation with 3.67 sacks per game.
EXTRA POINTS: Utah is 1-2 against ranked teams this season — defeating Stanford, but losing to UCLA and Arizona State. … Brighton High grad Ricky Havili-Heimuli is a senior defensive tackle for the Ducks. He has 22 tackles, four tackles-for-loss and one sack this season. … The Utes are just 4-10 against Oregon in Eugene.
Email: dirk@desnews.com
Twitter: @DirkFacer