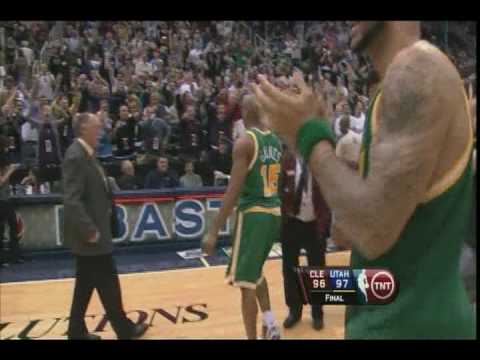 View 4 Items

In January 2010 Sundiata Gaines came to the Utah Jazz from the NBA's unheralded Developmental League on a 10-day contract. In his fifth NBA game, against LeBron James and his Cleveland Cavaliers no less, Gaines came off the bench to bury a game-winning 3-pointer, providing one of the most memorable Jazz moments in recent memory. Gaines stood triumphantly on the scorer's table after the game, arms raised heavenward, as the crowd rained down glory upon him.
And, well, that was pretty much it for Gaines.
The next three games he played a total of three minutes. He saw the court for a combined seven minutes in the Jazz's 10 playoff games that season. He's done nothing of significance in the NBA since.
Two days ago Jazz fans found out the team had released veteran Jamaal Tinsley and would be signing a 25-year old point guard from the D-League named Diante Garrett.
Just one night later, Garrett played 22 essential minutes in helping the Jazz win their first game of the season. Garrett is earning praise for what Jody Genessy of the Deseret News called, his "dazzling debut." Indeed, Garrett played well. Not only did he play 22 minutes – he was on the court at the end, when it mattered most.
The Jazz outscored the Pelicans by five points with Garrett running the point. While he did turn the ball over four times, he also dished five assists, scored an efficient seven points and had a steal. Perhaps his best moment came late in the fourth quarter when he drove baseline to draw the defense and then fired a pass up top to Marvin Williams who then hit, arguably, the biggest shot of the game.
Now the question: Is Diante Garrett the second coming of Sundiata Gaines, or does he have a chance to be more?
He does have a knack for rising to the occasion. Coming out of Vincent High School in Wisconsin, Garrett was not an overly big-time recruit. He committed to Iowa State after only having scholarship offers from UNLV, Clemson and the Cyclones. He was listed by Scout.com as the twenty-fifth best point guard in the 2007 class, the eighteenth by Rivals.com and the fifty-first by ESPN. He was considered only a 3-star prospect by all three recruiting services.
Garrett went undrafted after a nice, but unspectacular, four years at Iowa State. He was recognized his senior year as a second-team All-Big 12 player, but that was about as far as his basketball accolades went. He did have an impressive 90-game consecutive starts streak during his time in college, which if nothing else could be considered a positive sign of mental and physical toughness.
Diante's father, Dick Garrett, played five seasons in the NBA in the early 70s, averaging a respectable 14.3 points, 4.1 rebounds, and 3.5 assists per 36 minutes – while shooting 86% from the foul line. If Garrett can play the NBA game at the same level as his dad, even for just five seasons, the Jazz will have found themselves a nice role player, and Diante's story will provide inspiration to future D-League players.
Diante has a couple of advantages that Sundiata Gaines did not have that could allow him to make more of a long-term impact. Gaines was part of a playoff team led by Deron Williams. Garrett is playing on a young team that knows the playoffs are at least a year or two away, with the only other point guards on the roster being John Lucas and rookie Trey Burke. Third-year player Alec Burks can also play some point guard but is much better suited as a wing player, as evidenced by his one assist in 27 minutes Wednesday night. With Burke suffering a preseason injury and not yet set to return, Garrett will get an extended opportunity to show he belongs.
Last night was a good start, playing an integral role in helping the Jazz get a victory they desperately needed. Make no mistake, however, the Jazz still have a rough road ahead. Looking at the schedule, unless the Jazz make a big jump in their progression, it would be a surprise if they finished the month of November with more than two wins.
Jazz management is doing the right thing letting their young core lead the team. But what happens when you give your promising young players the keys to the car and they drive down the street running over mailboxes and garbage cans?
Last night Gordon Hayward, Enes Kanter and Derrick Favors all had encouraging moments, but they are likely to continue to struggle if the first nine games are any indication. It will take great coaching and management to keep the Jazz's young core from beginning to doubt themselves and each other. Even in last night's win it was largely veteran Richard Jefferson that got the Jazz back in the game in the third quarter.
Whether Tyrone Corbin is the man to get this young team where it needs to be in the months to come remains to be seen. The Jazz chose not to give Corbin a long-term contract; owner Greg Miller said he did not want the coach to feel too comfortable. It is safe to say Corbin's anything but comfortable after a 1-8 start. The Jazz have not looked good on offense or defense.
Jazz management have openly admitted they expected the team to struggle this year, but they promised a focus on establishing a tough defensive identity. If what the Jazz have played to start the season is tough defense, somebody get Zach Galifinakis and Ken Jeong on the roster, because at least that would be entertaining.
But then, at least Garrett should provide an upgrade over Tinsley, who simply lacked the athleticism to be of much value defensively and the shooting ability to help out on offense. Last night against New Orleans, the Jazz got their first win and introduced fans to the new point guard. It was a nice first impression. Jazz supporters and executives will keep an eye on his progress and potential as they eagerly await the debut of the highly regarded rookie, Trey Burke.
Hopefully Garrett will contribute to the Jazz's cause, move his own inspirational story forward and become more than just the second coming of Sundiata Gaines.
Nate Gagon is a published sports, music and creative writer. He is also a wholehearted father, grateful husband and ardent student of life. He shoots roughly 94% from the free-throw line and can be reached at: nategagon@hotmail.com or @nategagon.