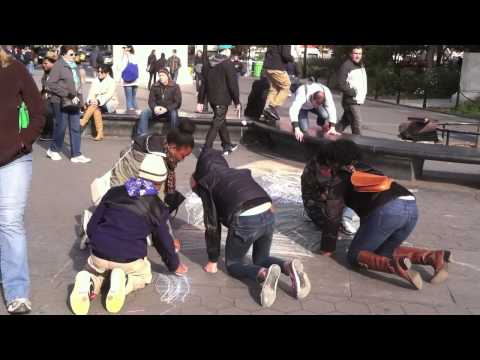 View 12 Items

Chalk drawings are an excellent way for ward members to get involved in missionary work.

—Madi Bass, LDS member
After seeing the positive reactions their first chalk art event at Union Square received last month, missionaries in the Southern Manhattan Zone took on another chalking project in New York City. This time, they drew the scene depicted in 1 Nephi 8 in the Book of Mormon, which is referred to as Lehi's Dream.
"We actually had an idea about doing the tree of life, and there's a scripture in 1 Nephi 11:25 where it talks about a fount of living water also being symbolic of the tree of life and of the love of God, and we realized that there was a fountain in Washington Square," Elder Brad Witbeck of Cottonwood Heights, Utah, said in an interview with the Deseret News. "We figured it would be really fun to use that in trying to teach the vision of the tree of life."
The missionaries invited members to join them in creating the chalk drawings, as well as teaching people about their significance.
"I was telling my nonmember friend about the activity and he said, 'Wow that must have impacted a lot of people,' and to be honest, I think it impacted us, the members, most," Megan Goddard, a member of a local LDS congregation who helped with the chalk activity, told the missionaries. "It was shocking to see people's genuine interest in this story (the tree of life) that they had never heard of. But I realized even more that we rarely share what we believe in to strangers, afraid of rejection or being intrusive, and we miss out on so many opportunities to spread light and to build our own testimonies."
The chalk drawing of Lehi's Dream included the steps in the gospel of Jesus Christ along the iron rod to show people how they can come closer to Christ.
"It was an easy way just to get them involved, to peak interest, and also, it was really easy to adapt it to them because it's … something that applies to all of us," said Elder Aaron Potter of Idaho Falls, Idaho.
The members and missionaries used the Book of Mormon to teach people about what the chalk drawings represented and handed out copies of the book that members had written their testimonies in.
"We hear about it all the time, and the Brethren have been talking a lot about the importance of members working with missionaries, but it's really showed to us in a huge way of how important the members are in missionary work," Elder Potter said. "We know from the first (chalk drawing) we had a lot of success teaching people there and then afterwards, but … at the activity in Washington Square we had so many more opportunities to be able to teach people, and hopefully the after-effects of it will be even greater as it goes to sharing it online and having members sharing it also."
Some of the members commented on how the activity felt like a successful approach to sharing the gospel message with others.
"It was a great way for me to see how the missionaries engage with people," said Tyler Froelich, a member who participated. "I gained confidence in their ability to be real and not awkward, but also being focused and direct [about] sharing the gospel. It helped me imagine how the missionaries would interact with my friends and those I might invite to hear the gospel."
Others appreciated the perspective it gave them on the importance of missionary work.
"Chalk drawings are an excellent way for ward members to get involved in missionary work," said Madi Bass, a Latter-day Saint who participated. "Not only is the experience entertaining, but it allows those who haven't experienced missionary work before a glimpse into what it's like for the missionaries on a daily basis. Oftentimes not everyone will appreciate the work they are doing or the message they have to share, but you come to realize that it's not about that; it's about those that do listen and receive. It helps you remember that you, and the missionaries, are doing the Lord's work.
Elders Potter and Witbeck posted images and a new video of the Lehi's Dream chalk drawings on their blog, reachmygospel.blogspot.com.
Abby Stevens is a writer for the DeseretNews.com Faith and Family sections. She is a graduate of Brigham Young University-Idaho. Contact her at [email protected].