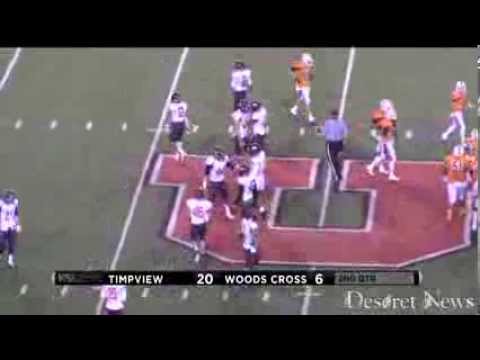 View 7 Items
Buy photos


We want (the state) to know that we're out here to hunt for anybody. If an offense wants to step up to us then they better know it's going to be a dogfight.

—Timpview defensive lineman Isaiah Nacua
SALT LAKE CITY — Timpview High's defense is a force to be reckoned with.
That fact was plainly obvious in the Thunderbirds' 37-6 thumping of Woods Cross in the 4A state semifinals Thursday night at Rice-Eccles Stadium.
Timpview's defensive players set the tone early, made plays throughout, and threw back most everything the Wildcats threw their way.
The numbers speak for themselves.
The T-Birds gave up just 97 total yards, created four turnovers (three in the first half alone) and yielded only seven first downs. Timpview's offensive players took full advantage of their well-set table and finished with 37 points and 309 total yards.
"That's everything we want," said Timpview defensive lineman Isaiah Nacua of the performance. "We want (the state) to know that we're out here to hunt for anybody. If an offense wants to step up to us then they better know it's going to be a dogfight."
Nacua's stated message was heard loud and clear on just the second play from scrimmage Thursday. A big Timpview hit led to a forced fumble that was recovered by defensive back Emmett Tela. Nine plays later, quarterback Britain Covey hit Kendall Tu'ua in the end zone from 2 yards out.
The route was on.
"We knew our defense was (taking the field) first, so that sort of motivated us," Tela said about his fumble recovery. "We just kept pushing it throughout the game and just doing what we do."
An interception by defensive back Will Watanabe, and a fumble recovered in the end zone by defensive lineman Gabe Reid, rounded out the first-half defensive highlights for the Thunderbirds.
Woods Cross managed a 19-yard touchdown run from Jesse Mitchell to cut Timpview's lead to 20-6 late in the second quarter before the T-Birds responded with a last-second 24-yard field goal from Brandon Clarke to lead 23-6 at the half.
The second half was more of the same.
Time and again Timpview's defense would force three-and-outs, turnovers and the occasional fourth-down stop to set up the offense in prime position.
The effort didn't go unnoticed by Covey, who had 68 yards rushing and 204 yards passing.
"Takes so much pressure (off), especially that touchdown on that punt," Covey said. "Our defense has been doing that all year, and I don't think they realize what a big help that is to us as an offense. It's amazing."
Covey contributed a 14-yard touchdown pass to Rhett Van Leeuwen and running back Kendall Tu'ua added a 6-yard scoring run in the second half.
Timpview coach Cary Whittingham was generally pleased with his team's effort, but says his squad must play better next week against East in the 4A title game.
"When we watch the film it's not going to be as good as we thought and it's not going to be as bad as we thought," Whittingham said. "I think it's going to be someplace in the middle. We know we need to get better for next week."
Timpview will face East at 11 a.m. next Friday at Rice-Eccles Stadium.
"It's going to be a tough matchup, but we'll be ready for them," Nacua said.
Email: bgurney@desnews.com
Twitter: @BrandonCGurney