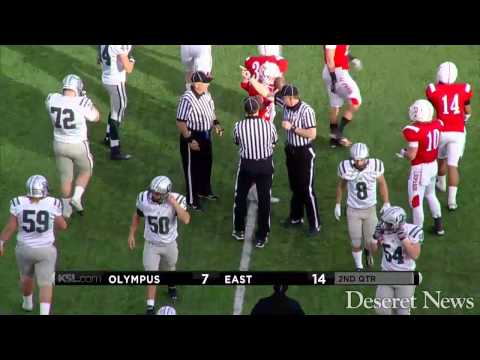 View 9 Items
Buy photos



SALT LAKE CITY — East coach Brandon Matich informed his players earlier in the week that Olympus would be the Leopards' biggest challenge to date. East had previously enjoyed second-half relaxation after leading by double digits at halftime in all 12 of its games.
But this was different — this was the 4A semifinals. Matich's premonition was right, and with less than two minutes remaining in the second quarter, Olympus pulled even with 4A's top-ranked club at 14-14.
East didn't panic.
The Leopards proved they're not afraid of grinding it out, and behind two pick-six interceptions, they earned their spot in the state championship game with a 47-21 win at Rice-Eccles Stadium Thursday.
"I was happy with our second-half effort," Matich said. "We responded both offensively and defensively at halftime. We were making too many mistakes in the first half. We were turning the ball over; we were sloppy in our execution. We'll go back on film and fix whatever it was."
After failing to convert a fake punt on the opening series of the third quarter, East strung together 28 straight points by way of a 1-yard run by Isaac Valles; a 26-yard interception by Lorenzo Manu; a 40-yard run by Ula Tolutau; and a 40-yard pass from Valles to Preston Curtis.
"Coaches left and let just the players talk," Tolutau said of the halftime adjustments. "I told my line, 'I'm nothing without them. You open the holes and we'll bust them.'"
Tolutau finished with 188 yards and the one score on 20 carries. He tied a record for most 100-yard games in a single season with 12 and is now only 218 yards shy from breaking the single-season rushing record.
"It's playoffs; anything can happen," Tolutau said. "Slowly you got to build up and — boom."
East topped Olympus in first downs (20-13), rushing yards (346-170), total offense (418-261), possession time (26:11-21:49), and interceptions (3-0).
Manu's interception cushioned his state-leading total to 11 this fall. Tualagi Laupata added another 54-yard interception return, which gave East a 14-7 lead with 50 seconds left in the first quarter. The Leopards have now returned seven interceptions for points — another state record.
"There is a lot of skill on that defense," Matich said. "They made great plays and came up huge for our team. They responded really well."
Olympus (10-2) needed to capitalize on turnovers and start early. It did just that. After two East fumbles the Titans scored on a 17-yard run by quarterback Connor Manning and a 43-yard play-action bomb from Manning to tight end Tosh Wilcox.
It appeared as if the Titans had done enough to take the comforts of a tie into the break. However, with 1:22 remaining in the first half, Olympus muffed a punt, and East's Avery Hopkins opportunistically corralled possession in the end zone after bear crawling the final 3 yards for a 21-14 lead.
"That was a huge momentum swing right before half," Matich said. "We had a feeling — we changed our punt scheme — that we might get a big play, maybe not a touchdown, but a big play. It happened to bounce our way."
In search of its first title since 1996, East will play the winner between Woods Cross and Timpview next Friday at 11 a.m.
Email: [email protected]
Twitter: @phibbs_