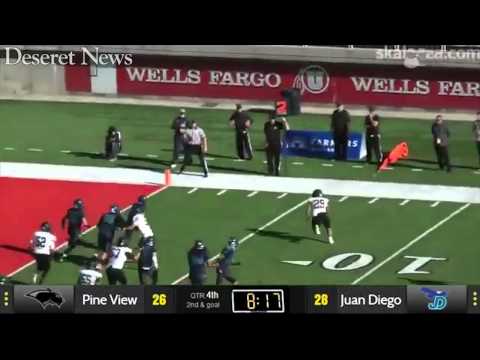 View 11 Items
Buy photos



SALT LAKE CITY — The Pine View Panthers were one point and one minute and 32 seconds away from the end of their season — until head coach Ray Hosner directed his team to allow Juan Diego to score.
The ensuing Soaring Eagle touchdown allowed the Panthers to regain possession and ultimately rally to earn a wild, 48-42 overtime victory and a spot in the 3AA championship game.
"I said, 'Whatever you do, you've got to carry them in. Don't let them take a knee. Just let them score,'" Hosner said after the Thursday afternoon victory at Rice-Eccles Stadium. "They did it and I'm just so proud of our kids and the effort. They dug deep."
After Juan Diego's final score, a 15-yard run by senior Jesse Springer that gave the Soaring Eagle a 42-34 advantage, the Panthers began their final drive on their own 19-yard line. Junior quarterback Kody Wilstead completed two quick passes for a first down, then saw four of his next five attempts fall incomplete.
Facing second-and-10 from the 49, Wilstead found senior Triston Duran for just the second time of the game. Duran caught the pass, plowed through three converging Juan Diego defenders, and then hurdled another to reach the end zone. Wilstead completed the drive with a pass to Jack Bangerter on the two-point conversion attempt, tying the score, 42-42, with just one second remaining.
"We knew we could get the ball to Tristan in the middle of the field, and that's what we did," Hosner said. "We kind of set them up all day to get that little seam route on that."
Once he caught the ball, Duran knew he was going to score.
"(I saw) nothing but the end zone," he said. "I didn't see that dude (I hurdled) until the last second. It was just reaction."
On the first possession of overtime, Juan Diego ran the ball four times, but two false start penalties kept the team from gaining a first down. When the Panthers took over, Wilstead ran for a first down and then connected with junior Colton Miller for the 15-yard game-winner.
"I didn't make the right read because the guy I was supposed to read sat there, but I saw the middle linebackers get right through," the 6-foot-6 Wilstead said of his rushing play. "I thought, 'I'm going to have to get this some other way.' Luckily my long body got me across."
Pine View had a mountain to climb to get back into the game after Juan Diego jumped out to a 21-7 advantage at halftime. Springer broke away with a 68-yard score in the first minute of the game, and Harry Jones followed midway through the first with a 44-yard reception from Cole Nelson.
Wilstead put the Panthers on the board with a 3-yard run in the second quarter, and then the Soaring Eagle turned right around and scored with a Nelson-to-Chase Williams 60-yard pass less than a minute later.
It wasn't until the third quarter that Pine View moved within striking distance, scoring twice to one Juan Diego TD to make the score 28-20.
"We're a second-half team," Duran said, "and we knew our defense would get stops and the offense would start getting going like we did."
To open the fourth quarter, Bladen Hosner scored on a 1-yard reception, followed by a Pano Tiatia 2-point conversion to tie the score at 28-28. Then Duran caught his only other pass of the day, a 50-yard reception, to give Pine View its first lead.
"That's Tristan Duran for you," Wilstead said of the senior. "He's just a playmaker. Get it in his hands and he'll make plays for us."
Williams gave Juan Diego a one-point lead with a 12-yard run with 1:45 remaining just before Hosner told his team to give up one more score.
Duran finished with 101 yards and two touchdowns on two receptions while Wilstead totaled 402 yards on 25-for-46 passing. Tiatia led the rushing attack with 76 yards on 14 attempts, and the team had 504 yards of total offense.
Juan Diego totaled 584 yards as a team behind Springer, who led with 102 yards on seven rushes and 77 receiving yards on three catches. Williams had 102 yards on 22 rushes and Nelson completed 10 of 16 passes for 274 yards and three TDs with one interception.
The Soaring Eagle committed 14 penalties for 82 yards, while Pine View committed just four penalties for 30 yards.
With the win, the Panthers return to the title game for the first time since 2007, when it lost to Timpview, 50-7.
"Without a doubt (an emotional victory)," Hosner said. "Getting our program back where it needs to be, getting to state championships, and I'm just so proud of our kids and our coaching staff, our fans, our student body."
Pine View will face the winner of Dixie and Desert Hills in next week's championship match. The game will be played Friday, Nov. 22 at 6:30 p.m. at Rice-Eccles Stadium.
Sarah Thomas earned a degree in Mathematics from the University of Utah and is currently pursuing an MBA at Westminster College. She has been covering sports for the Deseret News since 2008. Email: [email protected]