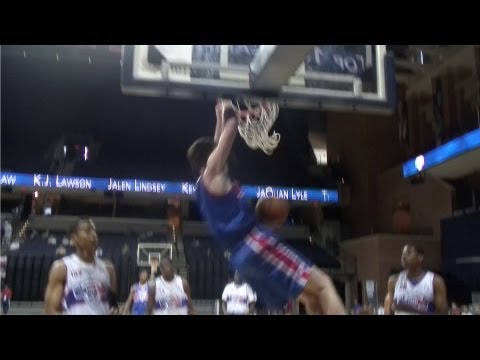 View 3 Items

He came to me on the Saturday before signing day and told me he didn't feel at peace with his decision to sign with Ohio State. I then told him that those feelings are normal for anyone making a big decision, but he needed to find out if he was simply experiencing 'buyer's remorse' or if it was something more.

—David Dastrup, Payton's father
MESA, Ariz. — Signing day surprises rarely work in BYU's favor, but that changed earlier today as Payton Dastrup surprised everyone by signing with the Cougars after committing publicly to Ohio State.
Dastrup is a 6-foot-9 center prospect who was rated as a four-star prospect by both scout.com and rivals.com. He held more than 30 offers, but narrowed his choices to BYU, Ohio State, Virginia and Florida late in the process.
He committed to the Buckeyes publicly about a week before National Letter of Intent day, but de-committed after stewing over the decision.
"He came to me on the Saturday before signing day and told me he didn't feel at peace with his decision to sign with Ohio State," explained Dastrup's father, David Dastrup. "I then told him that those feelings are normal for anyone making a big decision, but he needed to find out if he was simply experiencing 'buyer's remorse' or if it was something more."
Payton took the rest of the weekend to think over his final decision and ultimately concluded he needed to switch his commitment and sign with BYU. Doing as much wasn't easy, and even courageous in the eyes of his father.
"BYU was maybe the easy decision for Payton, and the one most expected, but I thought it was very courageous of him to go outside the norm and commit to Ohio State," David said. "I completely supported his decision since I knew what went into it. He did his research on each school and we were confident he'd make the best decision for himself no matter which school he ultimately chose."
The Dastrup family has a lot of ties to BYU and the community, which indicated to many he'd ultimately sign with the Cougars. Since an early age, Payton would spend summers at BYU camps and around the campus and basketball program.
In the end, David believes those BYU ties proved too strong.
"It's just a part of him and I think that's why he ultimately switched his decision," David said. "As courageous as he was in committing to Ohio State, I think it was even more courageous to go with his feelings and act on them. It's an incredibly difficult thing for an 18-year old to make these type of decisions, but I couldn't be more proud of Payton and how he's handled it."
Payton called BYU coaches on Monday to inform them of his decision. It was the first contact between the parties since his commitment to Ohio State on Nov. 7.
"BYU respected his decision to sign with Ohio State, and they were obviously excited he changed his mind," David said. "We're obviously excited that he'll play for BYU, but we were excited about his decision to play for Ohio State. I just knew that whatever decision Payton ultimately made that it would be the best decision for him and that's easy to support, as his father."
Payton is a member of the Church of Jesus Christ of latter-day Saints and has plans to serve a mission before enrolling at BYU.
Twitter: @BrandonCGurney