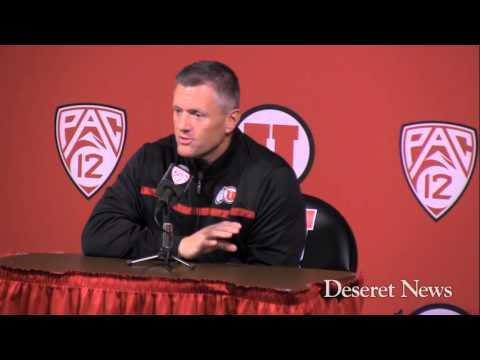 View 2 Items

We're more competitive, but it's not about being competitive. It's about getting W's, and so, that's the next hurdle we got to get over — is finding a way to win these games

—Kyle Whittingham, Utah coach
SALT LAKE CITY — Despite being mired in the same predicament as last season — needing two wins in their final three games to become bowl eligible — the Utah Utes insist things are different this time around.
"We're a better football team this year than we were last year," said Utah coach Kyle Whittingham, who readily acknowledges that the Utes' 4-5 record (1-5 in Pac-12 play) does not reflect that.
However, there is evidence to back the progress.
Last week's 20-19 loss to 23rd-ranked Arizona State, after all, was much closer than the 37-7 beating the Sun Devils gave the Utes in Tempe, Ariz., the previous season.
Then there's Utah's 27-21 upset win over No. 5 Stanford on Oct. 12 and narrow home losses to Oregon State (51-48 in overtime) and UCLA (34-27) earlier in the year.
"We're standing toe-to-toe with the best the conference has to offer and I said that in the press conference on Saturday night, but we've got to find a way to get more wins," Whittingham said. "We're more competitive, but it's not about being competitive. It's about getting W's, and so, that's the next hurdle we got to get over — is finding a way to win these games."
Whittingham added that the Utes have made progress, but unless they win nobody cares what else is going on.
"From last year we've taken miles of steps and we look like we're a better football team," said sophomore punter Tom Hackett. "Sometimes you need something to go your way and unfortunately the last few weeks that hasn't been the case. Hopefully in the next few games we can put it all together."
Utah heads to sixth-ranked Oregon on a three-game skid.
"We're all frustrated. But the one thing that we have going for us is that we're a family and I think that we're the closest family unit in the nation as a team. So that's a good thing for us that we have going," said sophomore linebacker Jason Whittingham." I think that if we all stick together and just keep our heads up, we'll overcome the frustration and hopefully end the season right — because we really want to get our seniors to a bowl game, something that didn't happen last year and that was really a bad thing at the end of the season."
In 2012, the Utes finished 5-7 after losing two of their final three games — falling to Washington (34-15) and Arizona (34-24) before closing the season out with a 42-35 win at Colorado.
10
comments on this story
This year's homestretch begins with a trip to Eugene, Ore., followed by a game at Washington State and a finale at home against the Buffaloes.
Quarterback Travis Wilson, who is also a team captain, is confident the team will find a way to get past the disappointment of last week's close loss to ASU and finish a challenging season on a strong note.
"It's definitely been really frustrating," he said. "But what our team needs to do is just make sure we keep our heads up, not to give up on the season, just keep on moving forward and learn from our mistakes."
Email: dirk@desnews.com
Twitter: @DirkFacer