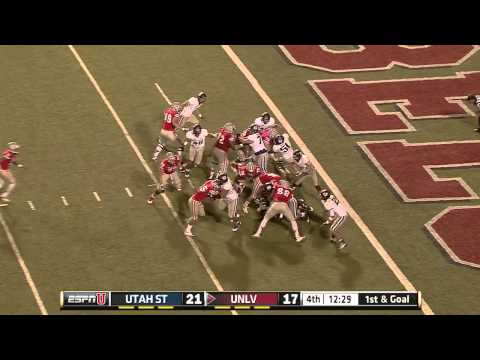 View 6 Items


The Aggies' trip to Las Vegas this past weekend wasn't easy and often was extremely ugly. But thanks to the smallest player on the team, Utah State came up with big plays when it needed them most for a thrilling victory to become bowl-eligible for the third straight year.
Three bowl games in a row. This milestone has never been reached before at USU. It took 121 years to do it, but it's better late than never. Many like to say once is a fluke and twice is a trend, and that certainly makes sense.
Yet from where many Aggie faithful are standing, this accomplishment says a lot more. It removes nearly all skepticism about the recent run of success USU has had. A third bowl game signifies the Aggies are here to stay, even without Gary Andersen. As a bonus, the Aggies are now 512-512-31 all-time (.500), which is another neat milestone itself.
Despite poor play, along with some badly timed penalty calls, Utah State still found a way to grind out a win against the fired-up UNLV Rebels. The Rebels' game plan was solid and they essentially sold out on the run, too, limiting USU's effectiveness on the ground. But much to the Rebels' chagrin, Bruce Natson repeatedly gashed their defense to the tune of 71 yards and two touchdowns, the second being the game-winner.
Simply put, the Rebels had no answer to Natson. As a result, UNLV went into panic mode too early. On their final drive, Caleb Herring got the Rebels down to the Aggies' 16-yard line and threatened to score. He took four shots into the end zone, and all four hit the dirt. After some very tense moments, the Rebels turned the ball over on downs and USU eked out the win.
This shows another important progression for the Aggies: they've learned how to win and hold strong regardless of their team circumstances. The glut of injuries they suffered this season underscores this point even further.
Winning close games didn't happen often in the past. In 2011 for example, the Aggies had more close games than anyone in the nation. Ten of their 13 games were decided by a touchdown or less (Wyoming, Weber State, and Fresno State were the outliers that season.). Nearly all of those games were decided late in the fourth quarter, and about half of them had the Aggies walking away with a loss.
Last year's team and this year's team don't have that problem nearly as much. Thanks to improved depth and play, when the Aggies win, they generally win big. Most of the victories this season have been by huge margins, notably against San Jose State and Hawaii. Consistency has become much more commonplace in Logan.
3
comments on this story
The best part? The season isn't over yet. This year's team can still accomplish so much more if the chips fall into place. If Boise State loses another league game, which isn't unrealistic since it has to face a resurgent San Diego State squad on the road, and Utah State wins out, the Ags will be in the inaugural Mountain West title game. If they can win that, the team will have accomplished its biggest goal.
The current senior class already has the most wins in school history, another milestone reached earlier this season, and it can add to it further.
If the Ags win their bowl game, it will be the first time USU has won back-to-back bowls, another major milestone on this journey.
Sam McConkie is a technical and professional writing graduate from Utah State University. Email: samus_4@hotmail.com