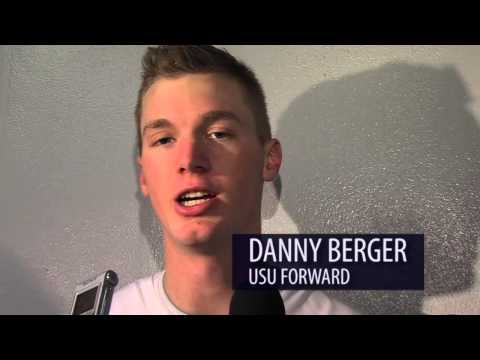 View 2 Items

Our goal is to win the next game. It doesn't matter if we play Southern Cal or Southern Utah. We want to win every game.

—Utah State forward Kyle Davis
LOGAN — Last weekend, Utah State started its basketball season with a victory over USC, the first Pac-12 team to visit the Spectrum in 36 years. On Tuesday night, the Aggies (1-0) face Southern Utah, a team that USU has played in five of the last six seasons.
While the Thunderbirds (1-0) might not have the same national recognition as the Trojans, Utah State still has its focus on the task at hand.
"Our goal is to win the next game. It doesn't matter if we play Southern Cal or Southern Utah. We want to win every game," Aggie forward Kyle Davis said. "The motivation is the same. We will go out there and play hard and play good defense against Southern Utah just like we did against USC."
If any USU player has a little extra motivation it would be Davis, who spent the 2010-11 season in Cedar City as a Thunderbird before transferring to Utah State after completing a mission in Michigan for The Church of Jesus Christ of Latter-day Saints. In his first game as an Aggie, Davis was a key part of the win over the Trojans, going for 10 points and seven rebounds against the much larger USC lineup.
Only center Cal Hanks remains a part of the Southern Utah team that Davis played on. SUU head coach Nick Robinson took over the program in 2012 and the rest of the roster has turned over since Davis departed.
Even though he'll be playing against his old team, the biggest thing Davis says he's looking forward to is having the Utah State crowd on his side. During the 2010 USU-SUU game Davis collected five rebounds, but didn't score. His biggest memory from that game is getting a hard time from the fans. That wouldn't be an abnormal story if the game was played in Logan, but the two teams met that season in Cedar City.
"There were so many Utah State fans that traveled to the Southern Utah stadium. I think I got booed on my own home floor," Davis said.
19
comments on this story
Southern Utah won its first game of the season over Arizona Christian 85-78, and impressed Aggie head coach Stew Morrill on film.
"They play really hard. They are physical. They have a lot of kids that can shoot the ball. They are young, but that doesn't seem to faze them much," Morrill said. "I'm really impressed with how enthusiastic they are."
Both teams will take a bit of time off after the game before heading to California for their next contests. Utah State will travel to UC Santa Barbara on Saturday while Southern Utah will play at California next Monday.
Kraig Williams is a 2010 Utah State University graduate and regular Deseret News sports blogger. He can be followed on Twitter @DesNewsKraig.