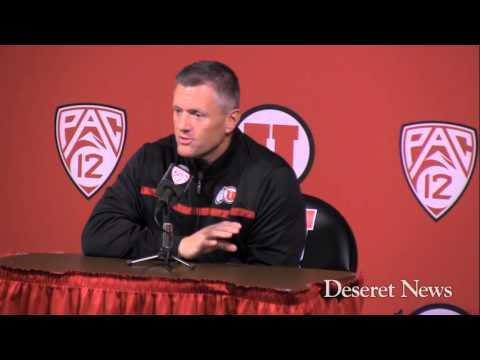 View 2 Items

We're standing toe to toe with the best in the conference has to offer, and I said that in the press conference on Saturday night, but we've got to find a way to get more wins. We're more competitive, but it's not about being competitive. It's about getting W's, and so, that's the next hurdle we got to get over is finding a way to win these games.

—Kyle Whittingham, Utah head football coach
SALT LAKE CITY — Kyle Whittingham addressed the media for his weekly press conference Monday.
In the conference, Whittingham addressed a number of issues with players and personnel. He also addressed the fourth-quarter collapse against Arizona State and how the Utes will look to rebound this weekend against the Oregon Ducks.
What follows is a partial transcript of the conference.
Don't have time to sit and read the full transcript or watch the whole video? Download the audio and take it with you to listen later.
---
Reporter: A few weeks ago you had mentioned that Isaac Asiata was playing well for you. Is there a chance you opened up the battle there?
Kyle Whittingham (KW): There's a chance that he'll play more. He did play in this game. He took about eight to 10 reps this game on Saturday, and he will play more. We're going to get him more involved. He graded out at 100 percent in his minimal reps, and so, I've been an Asiata fan for a long time. He's just a redshirt freshman. But, to answer your question, absolutely, Isaac will get more playing time.
Reporter: Coach, as frustrating as last season was, how much of a shell shock is it to find yourselves basically in the same situation this year?
KW: Yeah, it is, and I can tell you what, and I've said it I think one or two other times this season, we were a better football team this year than we were last year. The record does not reflect that. You know, this team, Arizona State, we went down there last year and we just got shellacked. I think it was 40-6, or whatever the case may be.
We're standing toe to toe with the best the conference has to offer, and I said that in the press conference on Saturday night, but we've got to find a way to get more wins. We're more competitive, but it's not about being competitive. It's about getting Ws, and so, that's the next hurdle we got to get over is finding a way to win these games. But like I said, last year, a lot of the games we weren't even in. So, we made progress, but nobody cares unless you get the W. Nobody cares what else is going on.
Reporter: I know you've mentioned the protection on Travis Wilson wasn't good enough for him to hit, but are you receivers doing enough to get themselves open?
KW: Nope
Reporter: Is there enough separation?
KW: Absolutely not. (We were) gloved up at receiver, and I've mentioned that, and they just ... Not one position group on offense played well. Even had the protection been better, many times there was nowhere to go with the ball, and so, it's a concerted effort across the board on offense to get better this week. We've got to get better at every single position group.
Reporter: Coach, on offense, when you say, you know, getting better, is it a manner of maybe trying to find some new players who can step up? Are those players there and waiting in the wings for chances? What exactly do you do?
KW: We've got to coach better, and I always bring it back to coaching, because we're not coaching to point fingers at players and blame them. I mean, if your guys aren't performing, then you've got to coach them better and if they can't perform better, then you've recruiting the wrong guys.
No matter how you spin it, it comes back to coaching. We've got to do a better job there and maximize the guys that we have. We've moved the football this year. The Stanford game was an example of that. We moved it well, and so, we've just got to do a better job across the board.
Reporter: Is there anything different you guys can do offensively at the start of games? It seems like there's been some struggles ...
KW: Yeah, that's pretty impressive after two-week break to have those first three plays: sack, sack and tackle for loss, and not in that order. There was a stretch there where we were starting fast on offense, but you know, last week was certainly not one of those or Saturday.
Defensively as well. We didn't start particularly well on defense. We gave up a score again, which has happened quite often this season on the first drive, and so I think, starting fast has been something that has not been a strength of ours most weeks. To the defense's credit, they rallied up and they didn't give anything up until, you know, midway through the fourth quarter, unfortunately. The defense, had they been able to hold that lead and it wouldn't been a masterpiece on defense. As it was, it was just a very good effort.
Reporter: Coach, the defense is what I was thinking about on this. With the opening there, giving up that opening touchdown again and locking down so much. Are there adjustments that are being made or is it just, there still a way of giving them out, just starting out right from the beginning playing the way they should and executing the way they should …
KW: Some adjustments, but more than anything, a couple missed tackles on the first drive and a couple gap assignment, missed assignments, I should say, on gaps. There were no major adjustments that took place, nothing that Arizona State ran took us by surprise.
I mean, when you're as successful as they have, they scored 50 points or more in five of their eight games. They're not going to change much, and 50 points or more in the last three in succession, and so we didn't expect them much to change, didn't get them much to change, but they executed very well in the first drive. We didn't execute very well on defense and missed some tackles, and they got in the end zone.
Reporter: Kyle, Xs and Os aside from the defense, what does it say about their character that, with all the struggles the offense has had, after that game and said, "Hey, it's our fault. It's on us."
KW: That's how it should be. We're a team, we win as a team, we lose as a team. When the defense has been playing well lately, that's no secret, but there's been games this year where the offense has played exceptionally well and haven't played so well on defense, and so, we have arrived in no area of our team. We're a work in progress across the board, and that's the mentality you expect your players to have, and if the roles were reversed, play well on offense in the last few weeks, and not so well on defense, you'd expect the offensive guys to step up and have that same mentality.
Reporter: Here we are in the 10th week, and you'd still be work in progress. Was that something that you, I mean, you always said, probably a shock, when …
KW: We're a work in progress from start to finish, we're the same way in '08, '09, '04. Every football team's a work in progress, and that's something. My point is you never arrived. I'm not trying to say, "Hey, give us more time, we've got things to work ..."
We always have things to work on, as does everyone in the country. You go talk to Nick Saban. I'm guaranteeing you, he'll say they got a bunch of stuff to work on. That's more a coaching mentality, more so than trying to grasp its straws. I didn't mean to give that impression.
Reporter: And then, did the goal of making it to a bowl game obviously is still there, is that …?
KW: Absolutely, that's our No. 1 goal and the math gets easier and easier as the season goes on. Not we've got to win two out of three. I mean that's the long and short of it, and so we've got to work it out for us.
Reporter: Defensively, personnel-wise, I noticed a lot of Justin Thomas out there on the field for you. In fact, I think he may have even started …
KW: He did.
Reporter: Is there a change in the two-deep there?
KW: Yeah, Justin had an excellent week in practice, and Justin was playing a bunch for us in the last three or four weeks and has continued to get better and better. He's been playing two roles for us, outside corner and nickel. We've had four guys, really, that play those three spots.
We got Daveon Orphay and Keith McGill outside exclusively, Mike Honeycutt who plays inside exclusively, and then Justin is the swing-guy. Justin has had a good enough week at practice. We felt he deserved to get a start, so he started opposite the Keith in place of Orphay, but then we brought Orphay in three or four series later and moved Justin inside. So he played two positions and got a lot of reps and did a good job. He did get beat on the touchdown late in a game, but the secondary is a whole. (I'm) very proud of how they played, but, you know, we still got to get better.
Reporter: Has Keith become the next University of Utah shutdown corner?
KW: He might. I mean he might be that. He had a great game Saturday, although I know he feels he should've came away of his interception or two. He was right there, and he just misplayed the ball a little bit and couldn't come down with it, but they were going at him with their best receiver, and Keith was lights-out. He's got that great length, and that's why we moved him initially.
He's got the 6-foot-3 height,and he's got the biggest wingspan on the team and so much athleticism. You know, he's a lot like Sean Smith. I keep comparing him to Sean throughout his time here. But, yeah, to answer your question, he's had a great progress. He's progressed from Game 1 all the way through, and if he keeps it up, then he's going to play football for a long time.
Reporter: Coach, can you just talk a little bit about Oregon's offense, the weapons they have there.
KW: Yeah, great weapons. The quarterback, and I guess, you know, he got dinged up a little bit in the game, and we expect him to play well in one game or the other. I mean, you know more about it at this point in time than I do, but it starts with the quarterback, one of the best, if not the best, in the country. In the Pac-12, we see just see one great quarterback after another week after week after week. He may be the best of them all.
De'Anthony Thomas, the running-back: tremendous. The receivers, the Huff kid, he's a great player. Their offensive line has been good for a lot of years, so they got a lot of weapons. Their tempo is another thing that's a weapon for them. They're as fast as anybody in the country as far as getting plays off, and so they have not missed a beat with a Chip going to Philadelphia. You know, they've just picked up where they left off.
Reporter: Coach, how encouraging was it to see Oregon get beat by Stanford?
KW: Well, they're not invincible. I guess that's what that told us, and for a while there they looked invincible, and Stanford proved that not to be the case. But they're still a heck of a football team and one of the best teams in the country. They've got all our respect, but it was ... It provided a little bit of a blueprint, even though you can't all of a sudden transform who you are and try to become Stanford. I mean, you can't do that, but it gave us some good ideas.
Reporter: Did playing Arizona State last week, similar tempo, similar type personnel, help the preparation for Oregon and their tempo and their speed this week?
KW: It does, and that's really the exception now is when you play a non-tempo team. That's the exception to the rule. Almost every week seems to be a tempo, spread attack, and so that's kind of how football is evolving, and we're getting semi used to that, I guess you can say.
Reporter: Can you talk a little bit about Nate Orchard and the way that he, himself, plays and improved the last couple of games?
KW: Yeah, very proud of Nate — in fact, the whole defensive line. We're among the nation's leaders in sacks. We're right up there, one, two, three — somewhere in the top of the country. Nate and Trevor on the edges have done a great job, Tenny inside, I think Tenny's fantastic, and Tenny plays great football for us week after week after week. (He's) so consistent.
In reference to Nate, he's become a complete player. We've been waiting for this for a couple of years. Last year, he did a lot of good things, but some weeks weren't as consistent as others. He's been very consistent for us this year — a hard worker, great attitude, and it's a real weapon having him and Trevor on those edges. Two athletic guys who can put pressure on the passer, along with Tenny inside, pushing the pocket as well as the other guys inside. L.T. Tuipulotu and — we got Senny back last week, which really gave us a boost on defense. I'm proud of the defensive line and how they played this year. Credit to them, credit to their coach, Iliaisa Tuiaki.
Reporter: Coach, can I ask you to be a psychologist, a little bit?
KW: Well, I've got a little background in that.
Reporter: Where is your team's mindset after another frustrating week? I know you said they've had a good attitude throughout all this, but each week, I can imagine with frustrating losses, it's been a little harder.
KW: With the frustrating week we've had, we're very frustrated. It's been a very frustrating season overall. As I mentioned, we've closed the gap so significantly, but again, the record — you are what and who your record says you are, and our record is same as last year, and so in that respect, the bottom line hasn't changed.
30
comments on this story
It's been frustrating in the fact that we know we're close. We know we're close and we're competing and we're slugging it out with the guys, toe to toe, that we're playing. But, you know, you got to pick yourself back up. It was a tough defeat, but life's all about picking yourself up and moving forward and taking on the next challenge, and that's what we're going to do. We're going to have a great week in practice, and my guess is the leaders are going to do just what they've been doing all year long and make sure that that happens.
Reporter: And Part B, as you prepare for Oregon, do you feel like you're going to face a downtrodden Ducks team or an angry Ducks team?
KW: Angry. They're a prideful team, and they've got high aspirations and goals, I'm sure, and they're going to be upset and ready to get back on the winning track. We expect to get their best shot without a doubt.
Thanks, guys.