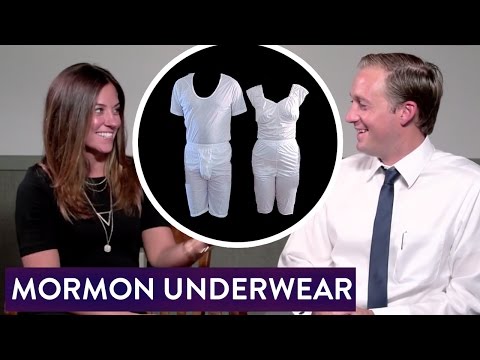 View 5 Items

In a followup to the Nov. 1 video about beliefs of members of The Church of Jesus Christ of Latter-day Saints, SoulPancake posted a new clip from the original interview in its "Have a Little Faith" segment about "Mormon underwear," or garments.
"I heard, and it may not be true, that Mormon women have to wear special underwear," Have a Little Faith host Zach Anner said to LDS members Kylee Johnson and David Rampton during an interview.
Johnson and Rampton both corrected Anner, saying that not just LDS women, or even all members, wear temple undergarments.
"In many religions there's lots of sorts of symbolism through some form of clothing, whether it's a hat or a robe or a collar. For us it is this under clothing we wear," Rampton said.
During Mitt Romney's 2012 presidential campaign, Buzzfeed campaign reporter McKay Coppins, who is a member of the LDS Church, wrote "A Brief Guide to 'Mormon Underwear.' "
"The principle behind Mormon garments would be familiar to any Baptist who's worn a 'What Would Jesus Do' bracelet, or any Jew who's worn a yarmulke or tzitzit (woven threads Orthodox Jews wear on shawls under their shirts)," Coppins wrote in his piece. "As the website for The Church of Jesus Christ of Latter-day Saints puts it, garments are worn as 'an outward expression of an inward commitment.' "
The SoulPancake video garnered mixed responses, but some found it to be educational.
"Thanks for helping me understand more about something I never understood," said Colette Marie McLaughlin, a commenter on the YouTube video. "Understanding provides one of the best means for helping end intolerance and making our world a kinder place. May all people be open as you are to finding out what is going on in respectful ways."
Abby Stevens is a writer for the DeseretNews.com Faith and Family sections. She is a graduate of Brigham Young University–Idaho. Contact her at astevens@deseretdigital.com.