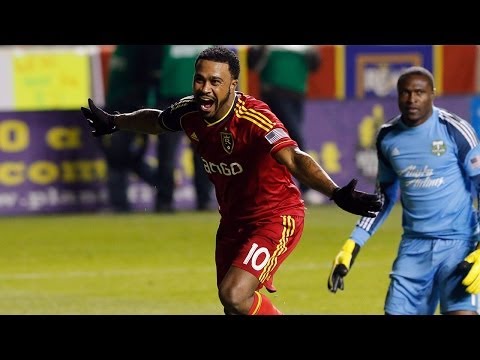 View 29 Items




This is the time of year that players like Robbie Findley typically step up. He's a guy that's scored huge goals for us in the past...

—Jason Kreis
SANDY — Real Salt Lake coach Jason Kreis had a hunch Robbie Findley was due.
Leading up to Sunday's Western Conference final opener against Portland, Kreis was asked about his striker's performance a few days earlier against the Galaxy, and if the performance was the best he'd seen in a while.
After discussing Findley's up-and-down season a bit, he concluded by saying, "This is the time of year that players like Robbie Findley typically step up. He's a guy that's scored huge goals for us in the past, 2009, and we're hopeful for the same thing this year."
Findley delivered on that hope in a big way Sunday. In the 42nd minute he made the most of a Mamadou Danso defensive blunder and buried his ensuing shot for the 2-1 lead.
The goal was Findley's first since a 95th minute tally back on Aug. 17 against the Galaxy, a personal drought of 445 minutes.
Findley finished the regular season with eight goals, second on RSL only to Alvaro Saborio. Kreis would've expected more had Findley stayed healthy.
"He's an interesting guy. I feel like he's had some spells this year where he's started to look really good and then picked up injuries. He was looking really good before the match we played at home against Dallas, looking really eager and chomping at the bit for his opportunity, and then we get an ejection in the first 20 minutes and he's out," said Kreis.
On Sunday, Findley backed up his first-half goal with an assist in the second half, helping push RSL's lead to 3-1.
He was subbed off in the second half because of tightness in his back, but his contributions prior to that were exactly what RSL needed.
SET PIECE SPECIALISTS: Throughout the season, Real Salt Lake's attacking ability on set pieces for the most part left a lot to be desired.
Over the last two games though, it has been very dangerous. Chris Schuler's goal against the Galaxy last Thursday was on a free kick, and then two of RSL's goals on Sunday were from corner kicks.
Kreis doesn't think it's a coincidence, either.
"It comes down to a couple things. It comes down to having some different ideas to open up some situations, so we looked for the short corner a lot in the middle of the season," said Kreis. "Then it comes down to service, and the service from (Javier) Morales has been second to none. And the third part is just commitment, to get on the end of things, and the running in the box has been a little bit more dedicated, a little bit harder runs and the willingness to fight through runs and get on the end of things."
SEIZING THE MOMENT: Over the second half of the season, Kreis talked regularly about his confidence in plugging just about anybody into RSL's starting lineup and expecting positive contributions.
That's a big reason he was confident Sunday despite leading scorer Saborio being unavailable. He simply inserted Devon Sandoval into the starting lineup and the production continued.
The rookie was dangerous from the opening minute and eventually scored in the 48th minute, pushing Real Salt Lake's lead to 3-1.
"I was real happy with my performance. I thought I held up the ball well and linked up with my team. I was happy to get a goal. I'll take it," said Sandoval.
Comment on this story
TOUGH BREAK: Chris Wingert's playoffs might be done. The Real Salt Lake defender broke his rib in the first half Sunday and was eventually replaced in the 33rd minute.
The injury occurred in the 14th minute when Wingert slid into Portland's Diego Valeri on an unnecessary challenge in the offensive third. The resulting free kick led to Will Johnson's wonder strike for the early lead.
Lovel Palmer replaced Wingert, his first appearance since injuring his hamstring in the regular-season finale against Chivas USA. His pace gave RSL more of an attacking threat up the sideline.