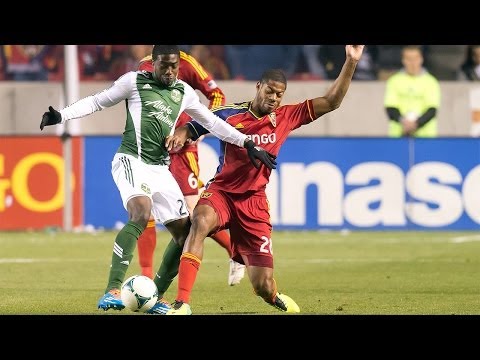 View 27 Items



(Owning RSL) feels much more like you're running a non-profit community charity. You want to make the right decisions for the community, more than for the pocketbook.

—RSL owner Dell Loy Hansen
SANDY — Dell Loy Hansen didn't look flustered, or even faintly nervous. It wasn't like he was closing on a big real estate deal or something.
Granted, it was an hour before the Western Conference finals.
Still.
"They're completely different," he said, comparing his day job to owning Real Salt Lake. "This feels much more like you're running a non-profit community charity. You want to make the right decisions for the community, more than for the pocketbook."
The community seemed just fine after RSL's 4-2 win over Portland on Sunday. The aggregate score series moves on to the Rose City for the Nov. 24 second leg.
Whatever is inspiring Hansen, it seems to be working. In his first year as sole owner, things couldn't have gone much better. He stated when he took over that he wanted Real to be one of the four best teams in Major League Soccer. Done and done. Not only is it among the final four, but it has a great chance to win on aggregate in Portland and advance to the MLS Cup championship game.
As successful as he is — Hansen has become wealthy in real estate — his tenure as Real's sole owner has been quieter than that of previous majority owner Dave Checketts. No surprise there. Checketts has been in front of the cameras since he was in his 20s, when he worked in the front office of the Utah Jazz. The Bountiful native wasn't just known in Utah but in New York, from his days as president of Madison Square Garden. It didn't hurt Checketts' reputation when Real won the MLS Cup in 2009.
But last January he handed ownership over to Hansen, lock, stock and soccer socks. Checketts had lost enough money. Though Hansen had zero experience in pro sports ownership, he had mucho experience in making money.
Hansen inherited some interesting business indeed. For instance, Real's game against Portland marked its first-ever Sunday game. How would the fan base respond? Hansen joked prior to kickoff that he told LDS friends "we're not in the Roman-pagan calendar, we're on the Christian-Judaic calendar, which is sunset. So I think I turned a few heads."
Turned out he didn't need to do a lot of convincing. RSL sold 17,333 tickets in a 70-hour window.
Meanwhile, Hansen inherited the onus of trying to keep coach Jason Kreis on board. The driven, innovative Kreis took a weak product in its early years and made it a model for competitive MLS teams on a budget.
But Hansen is still negotiating with his coach about a new deal, and things have become dicey. On one hand, Kreis is revered in the Utah soccer community and enjoying the success of a franchise he helped build. Conversely, his market value may never be higher. When teams from New York come calling, it's not coincidence.
Suitors other than New York City FC will surely follow.
Hansen said he fully intends to retain Kreis. They went to dinner in Hermosa Beach when Real was in California for the first playoff match. Hansen said they have tabled talks until season's end.
"If RSL is the best place for Jason to be, he'll be here," Hansen said, adding that they're currently "putting all our efforts" into keeping him.
If not, Hansen said, "We've got a really, really good Plan B."
But on Sunday Hansen was fully in the moment. He met with sponsors and hosted a dinner in the club room with Portland's owner. Clearly he was enjoying the post-season atmosphere and why not? As concerned as RSL pretended to be about playing the Timbers, how worried could it be? Real is now 6-1-3 all-time against Portland, 3-0-2 across all competitions this season. Odds of getting off to a good start were roughly the same as the odds of Rush Limbaugh voting Republican, even though Portland hadn't lost since playing Real on Aug. 30.
3
comments on this story
The Timbers went up 1-0 on a stylish free kick by Will Johnson. But suddenly Real got, well, real. Chris Schuler scored on a header and six minutes later Robbie Findley put Real up 2-1. The momentum had swung.
RSL put fears to bed off a 48th-minute goal by Devon Sandoval.
When Javier Morales scored in the 82nd it almost seemed the game in Portland wouldn't matter. Too much distance. However, an extra-time goal narrowed the margin to two.
Still, up in the owner's booth, Hansen couldn't have been happier.
Charity work can be so rewarding.
Email: rock@desnews.com; Twitter: @therockmonster; Blog: Rockmonster Unplugged