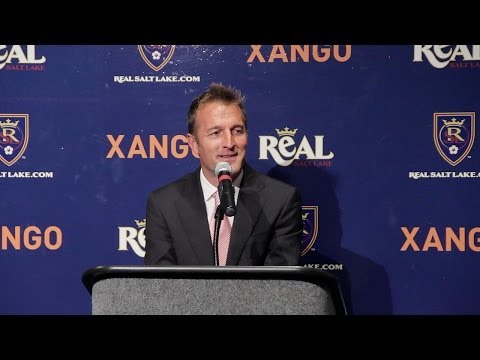 View 27 Items




One thing is clear and I think 100 percent certain, we've still got 90 minutes of work to do if we're going to advance.

—Jason Kreis
SANDY — The visiting Portland Timbers couldn't have asked for a better start and finish to Game 1 of the Western Conference final against Real Salt Lake on Sunday.
They scored early and late at Rio Tinto Stadium, and realistically should be in control of the series heading back to Portland. Instead, Real Salt Lake is firmly in control thanks to another scintillating performance against the Timbers throughout the meat-and-potatoes portion of the match.
Backed by a clinical four-goal outburst — its second of the season against Portland — Real Salt Lake overwhelmed Portland most of the match on its way to a 4-2 victory in the series opener in front of 17,333.
The result gives RSL a decided advantage heading into the second leg in Portland on Nov. 24, but the Timbers got a late lifeline with a goal on their final touch of the ball to avoid the three-goal deficit.
"Bookends," said RSL coach Jason Kreis. "Beginning wasn't good. End wasn't good. Seventy-five minutes in between was really good."
Those 75 minutes were some of the best soccer Real Salt Lake has played this season, with Chris Schuler and Robbie Findley scoring in the first half and then Devon Sandoval and Javier Morales scoring in the second.
RSL did all of that without the services of leading scorer Alvaro Saborio, who missed the match with a hip flexor injury.
Real Salt Lake is now unbeaten in nine straight matches against Portland dating back to April 2011 — and is 3-0-2 against the Timbers this season.
Portland must now sweat out that reality for two weeks before the teams reconvene at Jeld-Wen Field in Portland for Game 2 on Sunday, Nov. 24.
Kreis said his team can't afford to take anything for granted in the return leg.
"One thing is clear and I think 100 percent certain, we've still got 90 minutes of work to do if we're going to advance," said Kreis.
Early on RSL looked like it might be in trouble as Portland took an early 1-0 lead.
Will Johnson buried a 25-yard knuckleball free kick in the 14th minute, a shot that just narrowly cleared Real Salt Lake's five-man wall, with the pace perhaps catching Nick Rimando off-guard as he was slow to react.
The goal seemed to wake up RSL's stagnant play, and the goals eventually started flowing — three in 15 minutes to be precise.
In the 35th minute, Western Conference semifinal hero Schuler elevated over Portland defender Mamadou Danso to head home a perfectly placed corner kick by Morales to level the score at 1-1. His back-to-back playoff goals equal his career total.
"With his size and his physical attributes, I've always thought he's a guy who should score five goals a year on attacking dead balls. Good to see him coming into his own a bit," said Kreis.
Seven minutes later, RSL took a 2-1 lead on a disastrous blunder by Danso. After beating Findley to a Kyle Beckerman long ball, Danso was clearly unsure what to do at the edge of the penalty area. He ended up misplaying the ball back to his 'keeper, with Findley racing in to swipe it away before burying a shot past Donovan Ricketts.
"He made their center backs a bit nervous from minute one about what he could do in behind him. We were effective at looking to find him. I don't think we were effective enough in finding him," said Kreis.
Just three minutes into the second half, Findley contributed to another goal as he linked up with Sandoval on a counterattack goal for the 3-1 lead.
Starting in place of Saborio, Sandoval played well all match and in the 48th minute used his size to hold off a defender, and after receiving Findley's pass in the box he quickly turned and buried for the 3-1 lead.
"Our response from that first goal was terrific. The guys just got better and better and better as the game wore on, and we got back to doing the things we do well and got on top of things," said Kreis.
Portland continued to push numbers forward despite the two-goal deficit, and RSL made it pay in the 82nd minute as Morales headed home a Joao Plata corner kick for the 4-1 lead.
"They really wanted to push, and get another goal and get back in the game. It was a little surprising to see them push so many numbers forward and allow us to counter the way we did, but at the same time that's the way Portland's gonna play, and obviously they're aggressive and they're not going to give up," said defender Nat Borchers.
Just a few seconds from a disastrous result, Portland substitute Frederic Piquionne headed in a Jack Jewsbury cross in the 94th minute to cut the deficit to 4-2 and give the Timbers hope heading home.
"We've just challenged ourselves a little bit more," said Kreis. "We're not going to go there and sit back and have a laugh for 90 minutes. We're going to go there and have to work."