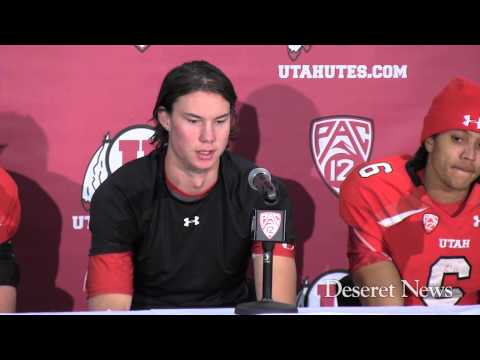 View 45 Items


Obviously, we've got issues on offense.

—Utah coach Kyle Whittingham
SALT LAKE CITY — The worst was over for Travis Wilson. It wasn't the 20-19 loss to Arizona State, though that was enough. It was the explaining.
But now he was finished.
It had been another gut-wrenching day for Utah's quarterback. He had made some nice plays but it had all collapsed, thanks to two momentum-killing interceptions. In the interview room he briefly discussed his health, his team and his struggling offense, before attempting to rise to get out of his chair. As he did so he bumped into the TV backdrop, then stepped off the platform to regain his balance.
Isn't that how it's been for the Utes this year? Stepping back while trying to regain their balance?
"Obviously," coach Kyle Whittingham said, "we've got issues on offense."
It's more than issues, really, it's a crisis. Once a rising star, Wilson is now unpredictable and unsure. His coach says the line isn't blocking and the receivers are not getting separation. It's true, those are contributing factors. But for top quarterbacks — for Wilson, too — those aren't excuses enough.
That's because a month ago Wilson was an up-and-coming player in a very good league. Now he's a question mark, possibly even a backup.
Something is going on with his arm, his hand, his mind — or all of the above.
One thing should be noted: it's not his heart. In spite of a steep fall since injuring his throwing hand against Stanford a month ago, he hasn't given up. Though he completed just six of 21 passes on Saturday — and his interceptions-to-touchdowns ratio is at 16 apiece — he also led the team in rushing.
Gutless wonders don't find other ways to contribute when things short circuit; they just go away.
The Utes aren't saying much, but surely there is something more than just a lack of blocking. In his first six games, Wilson never threw for fewer than 234 yards. Then came the injury and, well, his backdrop collapsed. In the last three games he has thrown for 15, 51 and 121 yards. The latter was an improvement, but one 35-yarder came when the defender stumbled. He underthrew Dres Anderson, yet still set up the Utes' second touchdown.
That's the most disconcerting problem for Wilson. Sometimes he looks himself. His 55-yard strike to Andersen hit him right on stride. Utah moved ahead 19-7 on a perfect corner pass to Sean Fitzgerald. But thereafter he couldn't hit the right ZIP code. He was intercepted twice in the last 2½ minutes, the second one ending the suspense.
Afterward, Whittingham intimated there was nothing wrong with Wilson that good blocking couldn't fix. Asked to explain the passing problems he said, "Protection. Can't protect. At all. And it's a problem. It's getting worse. That's the biggest issue with the offense. The offensive line has got to play better. Plain and simple."
Still, Whittingham didn't dismiss a question about opening the quarterback race again, which indicated Wilson has problems, too. The coach fell back on the time-tested non-answer to a quarterback controversy, saying he'll have to look at the film.
Which begs the question: Why would Wilson suddenly lose confidence? He started seven games as a freshman, all in the Pac-12, and played nicely for his age. He continued through the first six games of this season, beating No. 5 Stanford on Oct. 12.
His progress was good.
Suddenly it's all in his head or merely a blocking problem?
Whittingham insists his quarterback is fine physically.
"One hundred percent. Absolutely. One hundred percent," he said.
Wilson: "I feel fine, so …"
So the Utes continue to roll on. Or roll back. Or roll over. They've been here before. There were always questions about arms and injuries as Jordan Wynn inexorably moved into retirement, too.
Maybe it really is all in Wilson's head. Pitchers lose their control. Golfers get the yips. Singers miss their notes. But it's not often all at once.
Usually they get older and fade into the distance, instead of suddenly stepping off the stage.
Email: [email protected]; Twitter: @therockmonster; Blog: Rockmonster Unplugged