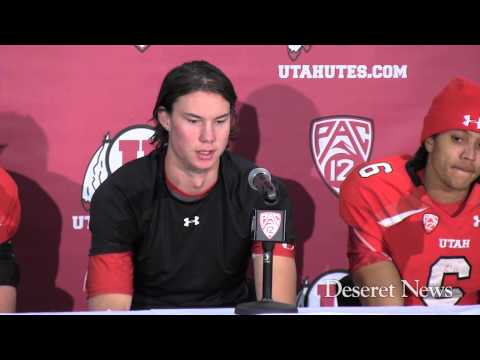 View 46 Items


The offensive line has got to play better, plain and simple. We're not protecting him. We've got to protect the guy. That's what has got to happen.

—Utah coach Kyle Whittingham
SALT LAKE CITY — Utah coach Kyle Whittingham didn't hold anything back when it came to identifying the biggest issue with the Utes' offense right now.
"Protection," he said. "Can't protect at all. It's a problem, and it's getting worse."
In Saturday's 20-19 loss to 23rd-ranked Arizona State, Utah quarterback Travis Wilson completed just 6-of-21 passes for 121 yards. He was sacked four times and intercepted twice, both late in the fourth quarter when the game was on the line. Robert Nelson and Will Sutton had the picks for Arizona State.
It all added up to another subpar showing by Utah's passing attack.
"The offensive line has got to play better, plain and simple," Whittingham said before adding that Wilson needs more time to succeed. "We're not protecting him. We've got to protect the guy. That's what has got to happen."
TOUGH SLEDDING: Saturday's setback makes Utah's bid for bowl eligibility more difficult. The Utes need two wins in their final three games to finish 6-6. They play at powerhouse Oregon next week and then face Washington State on the road before returning home to play Colorado.
"To be one quarter away from beating another Top 25 team at home and be one win away from a bowl game and to lose like that was hard," said senior captain Trevor Reilly. "It was ours to lose, and we just lost."
HACKETT KICKS WELL: In a game that featured 19 punts, Utah had a big edge with a 50.6-yard average by punter Tom Hackett compared to 37.5 for ASU and a net average of 47.7 compared to 32.4.
Hackett came into the game ranked No. 1 in the Pac-12 and No. 20 in the country in punting at 43.1 yards per punt and came up big for the Utes Saturday. He had a 63-yard punt in the first half and a 70-yarder in the second half that was the 15th longest in Ute history.
"Tom Hackett punted the heck out of the ball,'' Whittingham said.
ASU coach Todd Graham was very impressed with Hackett.
"Their punter is like 'wow' '' he said. "I've never seen anyone kick the ball the way he does. He's really, really good.''
PAT FAILURE: Whittingham praised his special teams, saying Andy Phillips "bounced back and made his kicks,'' after missing three field goals in his last two games.
However, it was one he didn't have a chance to kick that made a difference in the outcome.
After Utah's first touchdown, the Utes were in their PAT "swinging gate'' formation and instead of regrouping and trying a kick, the Utes tried to quickly score with a direct snap to Reilly, who was tackled by the ASU all-American Will Sutton.
"We had the look and Sutton made a great play,'' Reilly said. "Credit to him."
The one point seems crucial in a one-point loss, but as Reilly pointed out, the Sun Devils would have tried to kick a PAT after their last touchdown instead of going for two to try to get a three-point lead.
SALUTE AMERICA: Retired U.S. Air Force Lt. Col. Grant Keeler, a World War II veteran and POW, received a medal from U.S. Sen. Orrin Hatch during the first quarter break as part of the "Salute America" celebration at the game.
Other festivities included the surprise return of a soldier to his family, a large American flag draped across the field at halftime and special decals on the Utes' helmets.
7
comments on this story
"Our fans really, really enjoy it," said Utah athletics director Chris Hill. "It's just a nice feel-good."
EXTRA POINTS: The attendance was 45,183. … Utah's game at Oregon next Saturday is set for 2 p.m. MST and will be broadcast on FOX Sports 1. … Scouts from the NFL's New York Jets and CFL's British Columbia Lions attended the game, as did three representatives from the Holiday Bowl. … Former Utes Reggie Dunn, Tevita Stevens and John White were on the sideline.
Email: dirk@desnews.com
Email: sor@desnews.com