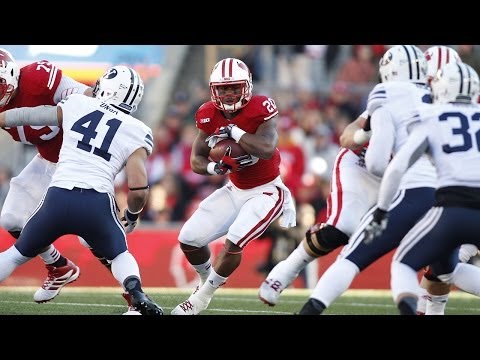 View 60 Items

Credit Wisconsin, they were well-coached, very physical and had a great game plan like we knew they would.

—BYU coach Bronco Mendenhall
MADISON, Wis. — BYU climbed on the big stage Saturday and promptly slipped off.
Sure, it was a predicted bump at Camp Randall Stadium, but the 27-17 loss to Wisconsin derailed a five-game BYU win streak just when folks were beginning to take note.
The Cougars tried to man up with a big, physical No. 21 Wisconsin but failed to produce enough big plays to pull off the upset. Down went a chance to be ranked come Monday. Definitely it was a missed opportunity to make some November noise.
"Credit Wisconsin, they were well-coached, very physical and had a great game plan like we knew they would," said Bronco Mendenhall.
BYU came to Madison with a team that had looked polished and on the rise. But on Saturday the Cougars did not play clean. Most all of that was due to Gary Andersen's Badger squad, but there were enough self-inflicted shots to the foot by the Cougars to killed momentum.
"I thought it would be a one or two possession game with a score of about 24," said Mendenhall. "It almost came to that, but we couldn't make it closer. Credit Wisconsin."
Mendenhall did not believe a two-week preparation for Wisconsin and Utah, two of BYU's three losses this year, had anything to do with two losses. "We'd never lost coming off bye weeks until now. It has more to do with the competition — playing good teams."
Wisconsin threw a few wrinkles at quarterback Taysom Hill and company. That, combined with dropped passes, miscommunication, missed assignments and injuries to receivers Mitch Mathews and Devin Mahina were enough to put BYU's stout defense in a bind.
BYU's defense, led by Uani 'Unga's 15 tackles, a Craig Bills fumble recovery and interception by Kyle Van Noy, did make some mistakes but played well enough considering how long it was on the field.
The Cougars had given up just four rushing touchdowns on the season but allowed Badger James White two rushing touchdowns in three hours and 10 minutes of playing time. Credit Wisconsin's offensive line, a crew that latched on to BYU defenders like crabs on chicken while White found space.
White's done that against everybody.
BYU's offense, however, struggled. Wisconsin outgained BYU 425 to 370 and the Cougars gained just 207 passing with 163 on the ground — a lot of that in the fourth quarter when Andersen called off the pressure on Hill.
On fire since Middle Tennessee State, Wisconsin's size, speed and great scheme led to pressure on Hill early. The Cougars went three-and-out in their first two possessions with nothing to show but a Hill interception.
This is typical of many teams on a road trip against a big-time team. Do it and it costs.
"They did a great job defending the spill," Hill said of the read option. "And they did something we hadn't seen them do on film, and it caught us in the first half." Wisconsin moved an outside linebacker or nickel back from inside to outside of BYU's slot receiver or tight end. After halftime, the Cougars made adjustments.
The Badgers played man-on-man defense on every Cougar, and Hill and company could not make enough plays to capitalize on it outside of Cody Hoffman's pair of touchdown grabs.
Ross Apo dropped a pair of passes and the Cougar offensive line got called with three false starts. On several occasions, Hill said there was miscommunication from the sideline and players missing assignments. On a fourth-quarter drive when the Cougars tried to convert a fourth-and-3 coming out of a timeout, they were flagged for having 12 men on the field.
Mendenhall called that one "frustrating," and offensive coordinator Robert Anae accepted the blame, calling it a mix-up in what he called for and failure to get the right people on the field to run it.
"You can't have those kind of mistakes against this caliber of football team on the road," said Hill.
"We need to execute at a high level. We had mistakes that killed drives, things like five-yard penalties. We can't have that."
Hill finished 19 of 41 and was sacked four times. He ran for a net 53 yards while Jamaal Williams gained 76 yards on 14 carries, a respectable average of 5.4 yards per carry.
But it didn't lead to enough scoring drives.
"Obviously it was disappointing we didn't win, but we came out and played hard and made a pretty good showing," said Hill. "We were in that game and competed, but it came down to mistakes we had offensively and defensively, and we didn't make enough plays. Opportunities were there, and we didn't capitalize."
Hoffman was a bright spot for Anae and Mendenhall. Facing man coverage, he continually made big plays and BYU's only two touchdowns. Three times Wisconsin's defender mugged him with the ball in the air. He caught one for a touchdown, his third hold-grab-tackle score of the season. The two other times, officials ruled the ball uncatchable as Hoffman had felonies committed on his person.
"It was a great opportunity to come here," said senior Skyler Ridley. "It's very disappointing we were in a good spot but couldn't make enough plays."
Saturday was a big stage but a slippery one for Mendenhall's squad.
This time, just like other times on the road against Florida State, TCU, Notre Dame and others, the Cougars found the footing very tough to handle.
Dick Harmon, Deseret News sports columnist, can be found on Twitter as Harmonwrites and can be contacted at [email protected].