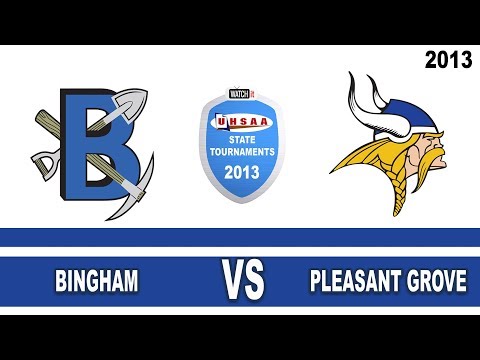 View 13 Items


Our goal is not to plateau. We do some things in practice that make it so we won't. It literally makes us so we can't plateau.

—Pleasant Grove coach Allyce Jones
OREM — The Pleasant Grove volleyball squad is a goal-oriented team.
One of the team objectives the Vikings set at the start of the year and then reviewed throughout the season was to never plateau. Never stop improving.
They met that goal, and nearly every other personal- and team-oriented ambition, when the Vikings defeated Bingham in four sets — 25-17, 25-27, 25-21, 25-17 — to win their second consecutive championship in the 5A title match at Utah Valley University Saturday evening.
"Our goal is not to plateau," head coach Allyce Jones said afterward. "We do some things in practice that make it so we won't. It literally makes us so we can't plateau."
The Vikings, who were the top team out of Region 4, were in control throughout the first set, creating a lead and then compounding it with a series of strong plays every time the Miners looked to pull back into contention. The same rhythm occurred in the third and fourth sets.
"We knew who we were. That's kind of the difference compared to any team in the state," Jones said. "We know who we are, and we know what we do every ball. 'We are fighters' on our (shirt) backs means something to our team. When we (remember) that (phrase), we are just incredible and no one can touch us."
The Vikings were led by the offense of Rachel Gale (23 kills), Bailey Nixon (14 kills), and Madison Wolford (13 kills). Senior Brisa Winteron had 45 assists and 22 digs; Brooklyn Bodily had 25 digs; and Alissa Alger and Meagan Carper combined for 26 digs.
In spite of all the talent that loads the Pleasant Grove roster, Jones said it took time to learn to play with the pressure of playing as the defending champions.
"That's something our girls had to learn, to deal with the pressure. We struggled at the beginning of the year and then they learned that we've got to just worry about this ball and not the pressure and taking the target off our back," she said. "It is very difficult to repeat."
The Miners, who were the No. 1 seed from Region 3, showed moments of brilliance during each set of the championship match, particularly in the second. After tying the score at 17-17, Bingham rallied to tie the score again at 22, 23, and 25 points before pulling ahead and taking the win, tying the match at one set apiece.
"I thought they did really well," Bingham coach Melissa Glasker said of her team. "PG has been here year in and year out, and this is our first time in the lights. This is our first time with this group. I thought they did well."
The Miners were led by the play of junior middle blocker Megan Bourdreaux, who hit .250, and junior setter Lexi English, who had 16 assists and five blocks. Torre Glasker, Melissa's daughter, passed .235 and had a part in nearly every big Bingham play.
"PG served us very aggressively and that was the difference in the match," coach Glasker said. "They served us a little harder than we served them. They kept us out of system, and we didn't keep them out of system as much as we should have."
Comment on this story
She added that while the Miners are disappointed to not take home the title, they are prepared to use the experience as a springboard into next season.
"We really wanted it this year," Glasker said. "We worked all summer long, we worked all season long. We hadn't gone over three sets all season so this (championship match) was a different dynamic. Do I think we're going to come back with a vengeance? You bet we are. We'll be back. They've seen it, I've tasted it, they're going to want to come back."
EMAIL: sthomas@desnews.com
Sarah Thomas earned a degree in Mathematics from the University of Utah and is currently pursuing an MBA at Westminster College. She has been covering sports for the Deseret News since 2008.