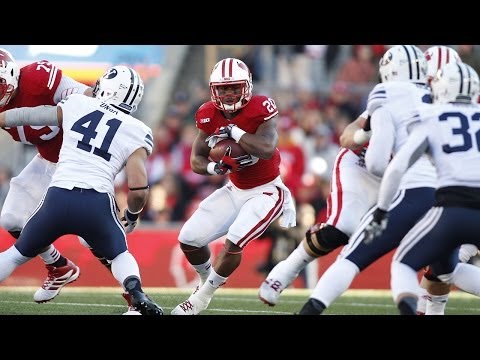 View 60 Items

MADISON, Wis. — In the annals of BYU receiving, BYU senior Cody Hoffman stands alone.
After a seven-catch, 113-yard, two-touchdown performance in the Cougars' 27-17 loss at No. 21 Wisconsin Saturday, Hoffman is No. 1 in school history in yards (3,355), touchdowns (32) and catches (239).
Hoffman needed 14 yards to eclipse Austin Collie for the top spot in receiving yards, having already seized the other two career marks earlier this season.
The record-breaker for receiving yardage came, fittingly, on a 34-yard touchdown reception on a pass from quarterback Taysom Hill midway through the third quarter that cut BYU's deficit to 20-10.
"We saw what we expected. They were playing man-press," Hill said of that play. "Cody's a really hard guy to defend … I gave Cody a ball he could make a play on. He'll catch anything that's thrown to him. He made a great play. It was a big play that got us on the board and gave us a lot of momentum. We needed to continue on that, and we didn't."
Twice, pass interference was called against the Badgers, while defending Hoffman, that were waved off.
"There were a few more plays that I thought were penalties that weren't called because they were trying to cover him," coach Bronco Mendenhall said.
Added Mendenhall about Hoffman: "He's really good. Wisconsin, like everyone, had a hard time covering him. He's very good and he's meant a lot to our program."
In the fourth quarter, Hoffman had another impressive catch as he got a toe down near the Wisconsin sideline before going out of bounds.
Hoffman needs one more 100-yard receiving game to become BYU's all-time leader in that category, too.
EVENED UP: Wisconsin coach Gary Andersen has faced BYU the last 10 years in a row, including his time at Utah State and Utah.
With Saturday's win, Andersen is 5-5 against the Cougars in those games.
INJURY UPDATE: BYU's Spencer Hadley suffered a knee injury early in the game and did not return. Wide receiver Mitch Mathews (shoulder) and Devin Mahina (groin) also suffered injuries in the first half and didn't play the rest of the game.
Center Terrance Alletto returned to action at center, seeing his first playing time since the Utah State game on Oct. 4.
COUGAR SUPPORT: BYU sold its allotment of 3,000 tickets to Saturday's game. An estimated crowd of 7,500 Cougar fans attended the contest at Camp Randall Stadium, according to BYU officials.
NOTES: In the first half, BYU's Daniel Sorensen and Kyle Van Noy hit Wisconsin tight end Jacob Pedersen as he jumped to catch a Joel Stave pass. The ball was jarred loose and it dropped into the hands of Van Noy, who was on his back at the 40-yard line. … Linebacker Jherremya Leuta-Douyere recorded his first career forced fumble, which was recovered by Craig Bills. … In the third quarter, Scott Arellano boomed a 73-yard punt, his career-high. … Wisconsin linebacker Chris Borland recorded 13 tackles, including two sacks and 2.5 tackles-for-loss.