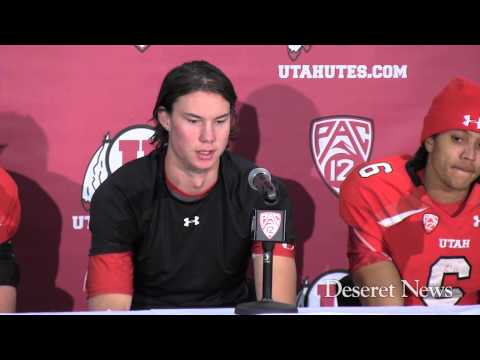 View 45 Items

Utah is a very physical, very tough team. I haven't seen the film, but that's the best we've been defended. They did a tremendous job. They did a great job of keeping us out of rhythm.

—Arizona State coach Todd Graham
SALT LAKE CITY — The last three weeks, Arizona State scored 54, 53 and 55 points against Pac-12 competition. Earlier this year the Sun Devils laid 62 points on USC. ASU came into Saturday's game as the sixth-top scoring team in the nation (46.6 ppg) and No. 10 in total offense with 500-plus yards per game.
So for Utah to hold the Sun Devils to a mere 20 points and less than 300 yards Saturday afternoon was more than the Utes could have hoped for. The problem was, it didn't result in a victory because of an inefficient offense that could only score 19 points.
Utah coach Kyle Whittingham called his defense "outstanding" and "encouraging" and said, "they played their hearts out, made play after play.''
But he also had to admit, "You have to protect a 12-point lead in fourth quarter. It's not a one-sided reason why we lost the game.''
Arizona State coach Todd Graham was extremely complimentary of the Utes' defense, saying it was as good as his team had seen this year.
"Utah is a very physical, very tough team,'' Graham said. "I haven't seen the film, but that's the best we've been defended. They did a tremendous job. They did a great job of keeping us out of rhythm.''
The Ute defense had been improving as the season has gone along and in its last game at USC, it gave up just 19 points and less than 300 yards. After allowing another opening drive touchdown Saturday, the Utes shut down the prolific Sun Devil offense until the fourth quarter.
By halftime, the Utes had allowed just 94 yards and through three quarters only 132 yards. However in the fourth quarter, the Sun Devils finally were able to break through with a touchdown drive to cut the margin to 19-14.
The Utes' D stiffened and forced punts on the next two possessions — ASU punted 10 times, four more than its previous high for the season — but couldn't do it on the Sun Devils' go-ahead touchdown drive with under five minutes left.
The Sun Devils' longest play of the night, a 38-yard run by Marion Grice, put them in Utah territory, and they scored the go-ahead touchdown with 2:37 left on a 14-yard pass from Taylor Kelly to Richard Smith.
According to Ute defenders Jason Whittingham and Trevor Reilly, who led the team with 14 and nine tackles, respectively, the Utes have to learn how to finish.
"They didn't do anything differently,'' said Whittingham about ASU's fourth-quarter offense. "We have to be tougher and finish. All great teams are great finishers and we didn't get that done today. It's a hard one to take, because we were up in the fourth quarter. We knew what we had to do to win and just didn't do it.''
"We didn't finish, man — it's all on the D,'' said Reilly. "We've got a 12-point lead and all we have to do is not let them score and we win.''