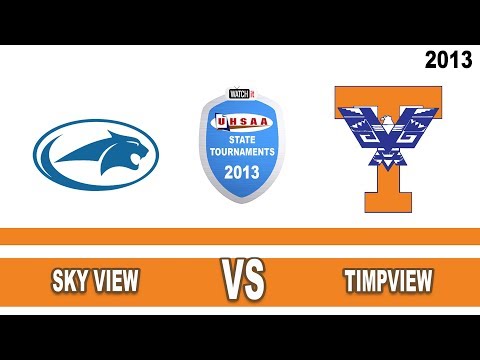 View 15 Items
Buy photos



We peaked, I believe at the state tournament. It felt so good to come back and beat them. We played better, stronger, we were more committed and so determined.

—Timpview senior setter Jessie Jorgensen
OREM — The players strained to contain their joy as they stood, side-by-side, hand-in-hand along the volleyball court, not just teammates but sisters, waiting impatiently for a chance to claim the trophy they'd worked so hard to win.
The kind of dominance displayed by the Timpview volleyball team doesn't come without a price. And the T-birds began paying for the 4A state title in the sweltering heat of summer with Cross Fit workouts.
The players marinated in the kind of chemistry that comes from seeing each other through life's large, small — and sometimes scary — moments.
"We peaked, I believe, at the state tournament," said senior setter Jessie Jorgensen after the top-ranked T-birds swept the second-ranked Sky View Bobcats 25-22, 25-13, 25-16 for their second 4A volleyball championship in three years. "It felt so good to come back and beat them. We played better, stronger, we were more committed and so determined."
Jorgensen said that suffering through summer workouts together laid a foundation of sacrifice and affection that allowed them to have a spectacular season in which they finished 31-3. The T-birds didn't lose a set during region play or the state tournament.
"We did what we could to foster that and to let those relationships grow," said Timpview head coach Kristen Bailey. "It wasn't hard. They just fell in love with each other, and they just clicked. We had an amazing retreat at the beginning of the year, we sat together at football games, we went to a haunted house, we went to Utah games, BYU games, UVU games, anything we could do together, we did."
Jorgensen said the grueling summer workouts set the tone for the season, but the haunted house was her favorite outing.
"We were all together, all holding on to each other," she said as her teammates took turns taking pictures with the trophy. "You wouldn't think it would be such a big deal, but we were all together, going through it together."
The senior captain and three-year starter admits she was probably the most cowardly in the haunted house, but that certainly wasn't the case on the volleyball court. Jorgensen ran a brilliantly balanced offense, taking advantage of her powerful hitters.
Senior outside hitter and co-captain Lauryn Dela Cruz led the team with 12 kills, while junior outside Lacy Haddock added 12 kills. Jorgensen finished with six kills and 13 digs.
"Lauryn and Jessie did a great job, not only of fostering the family atmosphere, but just leading on the court by example with their love of the game and their hard work."
Jorgensen and Dela Cruz said losing in last year's championship match to Sky View was a bit of extra motivation in Saturday night's title win.
"We just played like we love each other, and we do love each other," said Dela Cruz. "We played harder and harder every single game. We just wanted to smash them this time."
Bailey credited her senior leadership, the players' hard work and the knowledge and guidance of her assistant coaches for the team's dominance in a perfect region record and state championship run.
"We had some really good games," she said with a smile. "Every time we stepped on the court we expect to have a good game, but we knew the competition here was going to be better. It's state. Everybody is bringing their best game, so we knew we had to as well. I think everyone's level of play went up, including ours."
The Bobcats were impressive in their run-up to the 4A title match, especially since they only returned one starter from last year's championship squad.
"Part of the success we had last year is because we had 12 great kids in the gym," said Sky View head coach Malayna Knowles. "Even thought we had one starter coming back, I never felt like we were (starting over). It was just a matter of handing it over and letting them take charge. I thought they did a great job of stepping into that role, and they were excited to have their opportunity to see what they could do."
The team was led by senior Taylor Duryea, who finished with seven kills, while senior outside Kelsee Carlsen added four kills and junior right side Shannon Sorensen earned five kills and four blocks.
"And they're such great kids," Knowles said. "I would hope every coach feels that way about the kids they coach. But I know I have the best people."
Bailey said her players were comfortable with the pressure that accompanies playing for a state title because of their experience in the last two years.
"I think the girls had a lot of confidence," she said. "We just came in here and fought really hard for what we've been working for all year long."
The difference between last year's second place and this year's title, Dela Cruz said, isn't just better skills.
"We're just more of a family," she said. We just love each other more this year. … It feels so good (to win). After losing last year, so good."
Twitter: adonsports
Email: adonaldson@deseretnews.com