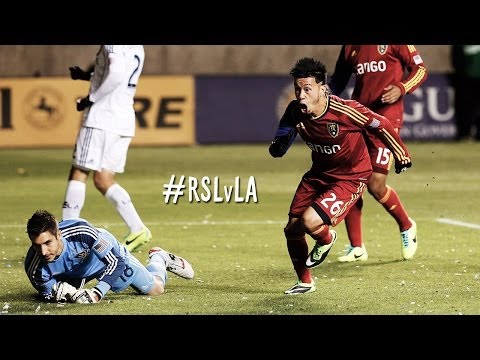 View 2 Items

I think it's a clean slate at this point. The more times you play a team over the course of a season, it can be more difficult to beat them.

—RSL midfielder Ned Grabavoy
SANDY — There's been a lot of talk the past few days about the similarities between Real Salt Lake and Portland ahead of their Western Conference final clash.
Both play a possession-oriented style of soccer, both have a fantastic midfield, both are coached by former MLS players and both hail from small markets with a passionate fan following.
Despite all those similarities, the results have been anything but.
Real Salt Lake is 5-1-3 all-time against Portland, including a 2-0-2 record this season. The club's only loss to the Timbers was in the first-ever meeting on April 30, 2011, at Portland — three days after the heart-wrenching Champions League loss to Monterrey.
On Sunday though — the first Sunday home game in franchise history — that eight-game unbeaten streak is meaningless.
"I think it's a clean slate at this point. The more times you play a team over the course of a season, it can be more difficult to beat them," said midfielder Ned Grabavoy.
RSL had a pretty easy time of it in two meetings at home against Portland earlier this season, but nobody expects a repeat in Game 1 at Rio Tinto Stadium (7 p.m., ESPN). The second game of the total goals series takes place two weeks later in Portland — a break necessitated because of an FIFA international window.
This is Real Salt Lake's fourth appearance in the conference final in the past six years.
Javier Morales can't wait for the series to get started.
"We play different formations, but we have the same mentality. We're always going to attack and score goals. We never sit back, it's going to be a fun game to watch, and for us it's going to be good to play because we're going to find spaces," he said.
RSL will be without the services of Alvaro Saborio, who has been ruled out because of the hip flexor injury picked up in extra time of Thursday's breakthrough victory against the L.A. Galaxy. Coach Jason Kreis, however, said Morales, Grabavoy and Sebastian Velasquez are all available for selection.
The quick turnaround from Thursday's conference semifinals isn't ideal for either team, but Real Salt Lake is glad to be home for the first leg.
"This team functions better when we can get out there and put our best foot forward and be aggressive and then let the chips fall where they might," said Kreis.
History certainly supports that notion.
In home-and-away series through the years — both MLS Playoffs and Champions League — Real Salt Lake owns a 4-0 record when the first game is at Rio Tinto Stadium with a 7-0 goal differential. It eventually advanced all four times.
Last Thursday's 2-0 victory over Los Angeles was the first time in four tries dating back to 2010 in which RSL advanced in a home-and-away series with the second leg in Utah.
That reality has the team buzzing heading into Sunday.
"We're at home. We'll have all the fans here in front of us. We've got to come out with a lot of energy and pressure them and just get the job done," said Robbie Findley.
Comment on this story
The first 15 to 20 minutes will tell a lot about the series as both teams will certainly try to dictate the flow of the game. Kreis is confident his midfield anchored by Morales and Kyle Beckerman will be in control, but Portland's midfield is certainly scary.
"With (Will) Johnson and (Diego) Chara and (Diego) Valeri in the midfield for them, they get a lot of stuff done, three guys that are extremely good on the ball and are willing to do anything necessary to make the team go, so I think that's where the battle lies for sure," said Kreis.
Portland's midfield was outstanding in a 5-3 aggregate victory over Seattle in the conference semifinals, a rhythm it has yet to discover against RSL in four previous meetings this season.