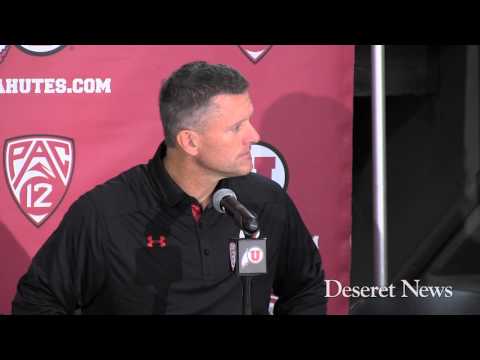 View 46 Items


We lost the game in the fourth quarter. I don't have a great answer as to why we won 49 in a row other than we made a lot of plays — we must have made a lot of plays in those 49 games — but it certainly came to an end today.

—Kyle Whittingham, Utah head football coach
SALT LAKE CITY — For 49 straight games, a run dating back to 2006, a halftime lead was followed by a victory for the Utah Utes. It was the second longest active streak of success in the nation.
"Was" is the word after Saturday's 20-19 setback to 23rd-ranked Arizona State at Rice-Eccles Stadium. The Utes (4-5, 1-5) not only failed to hold a halftime lead, they also let a 12-point advantage slip away in the final 13:12 in failing to the Sun Devils (7-2, 5-1).
"We lost the game in the fourth quarter," said Utah coach Kyle Whittingham. "I don't have a great answer as to why we won 49 in a row other than we made a lot of plays — we must have made a lot of plays in those 49 games — but it certainly came to an end today."
A 14-yard touchdown pass from Taylor Kelly to Richard Smith with 2:37 left to play provided the game-winning score for Arizona State. Kelly put the Sun Devils in position to prevail earlier in the quarter when he crossed the goal line on a two-yard run and kicker Zane Gonzalez followed with the PAT.
"Arizona State's a good football team, give them a lot of credit," Whittingham said. "They made the plays down the stretch. We did not."
The Sun Devils had 161 yards and 10 first downs in the fourth quarter, while Utah had just 17 yards and one first down. The Utes' five drives in the fourth quarter consisted of a trio of three-and-outs and a pair of interceptions.
"I thought I played well until that fourth quarter," said Utah quarterback Travis Wilson. "Offensively, we needed to do a lot more in that fourth quarter. It could have been game over if we just would have kept on moving the ball."
The Utes wound up with 247 yards of total offense. Wilson, though, was just 6-of-21 passing for 121 yards. He was sacked four times and picked off twice. Whittingham said that pass protection is the biggest issue on the team right now.
While acknowledging that the Utes have issues on offense, Whittingham was pleased that the defense was able to keep Arizona State's high-powered offense in check — except for the pivotal fourth quarter.
"All that matters is the end result, and we didn't get it done," he said.
Utah led 9-7 at the end of a first half dominated by defense. Both teams had just seven first downs and combined for only 203 yards of total offense.
Arizona State, however, started out strong. The Sun Devils marched 71 yards on 10 plays for a touchdown on the opening drive. Quarterback Taylor Kelly capped things off with a 10-yard run into the end zone with 11:35 remaining in the first quarter. Zane Gonzalez added the PAT to give them a 7-0 lead.
Utah's initial possession wasn't nearly as successful, not by a longshot. It consisted of three plays and a punt. Wilson was sacked twice and Bubba Poole was tackled for a seven-yard loss.
The Utes were much more efficient the next time they got the ball. After forcing Arizona State to punt, Utah embarked on a long but successful journey downfield. A 15-play, 63-yard drive took exactly seven minutes off the clock. It ended with an 8-yard scoring strike from Wilson to Dres Anderson with 2:04 left to play in the opening quarter. A two-point conversion attempt failed when a direct snap to defensive end/linebacker Trevor Reilly was unsuccessful.
"We had the swinging gate called. We do that from time-to-time if we get the look that we wanted, we go with it," Whittingham explained. "We got the look. We just beat one-on-one in a matchup."
Despite the shortcoming, momentum continued to sway the Utes' direction. Two plays into the ensuing possession, defensive tackle LT Tuipulotu recovered a fumble by Arizona State running back Deantre Lewis on the Utah 38.
An exchange of punts followed before the Utes took the lead on a short drive that ended with a 51-yard field goal by Andy Phillips.
The kick gave Utah a 9-7 edge with 9:15 to go in the half. The Utes drove to the Arizona State 30 on their next series, but a personal foul penalty on Kelvin York moved them out of scoring position and eventually led to a punt — ushering in two more before the half was complete.
Utah opened the third quarter with a bang. Wilson teamed with Anderson for a 35-yard pass on the first play from scrimmage to move the Utes into Arizona State territory. Seven plays later, Phillips increased the lead to 12-7.
Another Wilson-to-Anderson connection set up an additional score a few minutes later. A 55-yard completion led to a 12-yard touchdown strike from Wilson to Sean Fitzgerald. Phillips followed with the PAT as Utah's advantage swelled to 19-7.
It stayed that way until Arizona State fired back in the fourth quarter to triumph, scoring twice to defeat Utah for the 10th straight time.
Email: [email protected]
Twitter: @DirkFacer