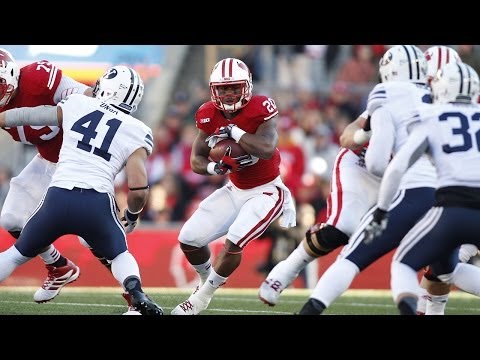 View 60 Items

Not one of our better efforts. We left a lot out on the field in terms of converting on third down.

—BYU offensive coordinator Robert Anae
MADISON, Wis. — After a slow start to the season, BYU's offense found itself rolling along through the end of October.
Then came Saturday's showdown against No. 21 Wisconsin at Camp Randall Stadium.
The stingy, physical Badger defense clamped down on Cougar quarterback Taysom Hill and the rest of the offense. For BYU, it was a case of too many mistakes and not enough yards or points, as the Cougars fell to Wisconsin, 27-17.
"Offensively," said wide receiver Skyler Ridley, "we didn't help our team out enough to get a 'W.' "
A variety of penalties, dropped passes, miscommunications and struggles on third down doomed BYU throughout the day. The Cougars converted just 7-of-19 on third down, and Hill was sacked four times.
"Not one of our better efforts," offensive coordinator Robert Anae said. "We left a lot out on the field in terms of converting on third down."
"We had little mistakes that killed drives," Hill said. "A lot of them were little five-yard penalties. We can't have mistakes when we play a team of this caliber."
With the loss, BYU fell to 6-3 on the season and saw its five-game winning streak end. Wisconsin improved to 7-2 and remained in the hunt for a BCS bowl berth.
Mendenhall pointed to two "critical drives" that made the difference in the game.
The Badgers scored on a two-minute, 65-yard possession with 14 seconds left in the first half that put them up 17-3 at halftime. Then, after BYU cut Wisconsin's lead to 20-10 midway through the third quarter on a 34-yard touchdown pass from Hill to Cody Hoffman, the Cougars got the ball back at their own 18-yard line. But Hill was sacked on first down, and BYU ended up punting.
The Badgers responded with a 10-play, 92-yard drive that staked them to a 27-10 lead early in the fourth quarter.
"I thought we were making a run," Mendenhall said about his mindset before Wisconsin's final scoring drive.
The Badgers "executed really cleanly" on those two touchdown drives, Mendenhall said, but BYU didn't execute cleanly enough.
Mendenhall added that Wisconsin "did a good job focusing on Taysom, especially his running ability," and showed the Cougars some defensive looks they hadn't seen before in terms of containing Hill. BYU finished with just 370 yards of total offense. Hill was 19-of-41 for 207 yards, with two touchdowns and one interception. Hill ran 17 times for 53 yards.
"Whenever a team fills the box to stop Taysom and (running back) Jamaal (Williams), we feel like we can take advantage of that," said wide receiver Skyler Ridley. "Unfortunately, we didn't come down with as many balls as we have the last few weeks."
"They did a good job of playing the spill when I did pull and run," Hill said. "Credit (Wisconsin) coach (Gary) Andersen and the scheme that he put forth, and then those guys for executing it."
The Cougars squandered an opportunity to knock off a ranked non-conference team for the first time since 1997.
"Obviously, it's disappointing that we didn't win the game. But I felt like, on the whole, we came out and played hard. We fought," Hill said. "For the most part, I felt like we made a pretty good showing for BYU. We were in that game. We competed hard. It came down to little mistakes offensively and defensively. We didn't make enough plays. The opportunities were there. We didn't capitalize on them."
"It is disappointing," said BYU defensive lineman Eathyn Manumaleuna. "We had a great opportunity to showcase what we do and how we prepare. It slipped through our hands. There were a lot of mistakes on our part. I had a fair share of mistakes as well. But we fought to the end. We're still a good team."
Wisconsin running back James White scored all three of its touchdowns, including one on the Badgers' first series of the first half, and another on their last possession of the first half.
White rushed 23 times for 147 yards and caught six passes for 47 yards.
Three plays after its famed "Jump Around" at the end of the third quarter, White scored again on a 14-yard run to put the game out of reach.
Meanwhile, the other half of Wisconsin's rushing dynamic duo, Melvin Gordon, ran for 86 yards.
Mendenhall said he "was impressed" with White and Gordon, although he added, "I was frustrated they were able to run the ball the way they did."
Badger quarterback Joel Stave completed 23-of-32 passes for 196 yards and one touchdown.
Now, the Cougars, who were close to jumping into the national rankings before Saturday's setback, are only left with thoughts of what might have been.
"It is a goal to be in the top 25," Anae said. "We had a chance to get closer to that. To be a good offensive team, you've got to do that on the road. That's how you earn that spot. We came up short tonight."
BYU hosts Idaho State next Saturday.